Hi

Welcome to the February 2018 edition of KHB Ezine.
This month....
My Granny Flat Kit Guide

Early PS: if you are reading this on a phone, turn it sideways to enable landscape view, it's easier to read.

---

Over the past 5 or so years Granny Flats have really hit the headlines. There are a number of players who have added to this trend: kit home providers keen to sell their smaller kits, home owners and investors looking to increase property value, city councils running out of building room, and of course the increasing cost of retirement villages and nursing homes. Additionally, the emerging issue of stay at home children, aka 'failure to launch', and boomerang kids, who cannot afford a first home or even rent payments. There is also an upsurge in less than legal renting out and Air B&B use.


The name 'Granny Flat' is an old term which properly describes it's original use, but they have many more uses and much more value today. These days the term is still used, but it is essentially a secondary dwelling. The benefits of building a Granny flat are many including not having to purchase land, not having to pay full development costs and no extra contribution charges to the council eg rates. Additionally, they are an excellent owner builder project.


Kit home providers have leaped onto this bandwagon of late with some launching specialised businesses devoted only to Granny Flats. Generally, they are just selling a small home kit designed for a small footprint. This is usually a one bedroom, one bathroom setup with a small living and kitchen area, and a carport. Others are the size of apartments/units wth second bedrooms and bigger living areas. Variations come in roof design, raised floors, open plans, verandahs and cladding options.


One bedroom Granny Flat kits can start from $20,000 cabins right through to $50,000 small homes. These prices are for a kit home supplied to the property which includes frame, roof and gutter system, windows and doors, cladding, interior linings and achitraves/skirtings. The owner builder has to provide a slab or purchase a raised floor, bathroom and kitchen fittings, plumbing and electrical. And of course labour to erect and fit out. That will add from $50 to $100,000 to the price depending on how much the owner builder does.


A down-sized application is required, but nothing like a new house DA. Beware of advertisements and promotions stating you don't need a permit or DA to build a Granny Flat. This is absolutely false. An Owner Builder licence is also a prerequisite to DIY.


Council authorities have varying views on Granny Flats and usually have specific web pages devoted to their local regulations. Those regulations can be, among other things, minimum property sizes, setbacks from fencelines and existing dwellings, access, sewerage requirements, bushfire provisions, and the legal uses for the dwelling. For example, in Victoria, the occupant has to be nominated and be a dependent of the main dwelling owner and when they cease to live there, the dwelling has to be removed. I'm guessing there are a few illegal occupants in Granny Flats around that state.


Here are a list of useful Australian links for your Granny Flat research.


https://www.planningportal.nsw.gov.au/building-or-renovating/do-i-qualify-fast-track-approval/granny-flats


https://www.brisbane.qld.gov.au/planning-building/planning-guidelines-tools/brisbane-city-plan-2014/fact-sheets/granny-flats


http://www.housing.wa.gov.au/HousingDocuments/Ancillary_Dwellings_Fact_Sheet.pdf


http://www.frankston.vic.gov.au/files/6760c4fd-6b1d-47d0-b606-a1ef011bb117/Application_Checklist_-_Dependant_Persons_Unit_Granny_Flat_-_JUNE_2013.pdf


Here are some Granny Flat providers. Look for Owner Builder kit options and support.


https://www.bestgrannyflats.com.au
www.qualitykithomes.com.au/
www.i-build.com.au/flat-pack-granny-flats
www.kithomes.net.au/grannyflats
https://www.lifestylegrannyflats.com.au
http://www.valleykithomes.com.au/granny-flats.html
https://queenslandgrannyflats.com.au
https://superiorgrannyflats.com.au
www.mentisgrannyflats.com.au
www.granny-flats.net.au/
www.avalongrannyflats.com.au
https://www.instanthomesolutions.com.au/granny-flats-brisbane
www.grannyflatswa.com/
www.fleetwood.com.au/modular-homes/granny-flats/
www.classicgrannyflatswa.com.au
www.prestigekithomes.com.au/granny-flats/victoria
www.elpor.com.au/granny-flat-kits
https://www.classiccabins.com.au/cabins-granny-flats

---
Need a short ebook on owner building? Your big bonus, just for being a subscriber, is personal access to my Free Ebook:
Kit home groundwork: 5 Crucial Steps.


Download your free PDF version HERE and use your personal password khb1346 (lower case letters-expires in 7 days). If you miss out just contact me.
I'm happy for you to share this file and newsletter with a friend, but please don't upload it.

---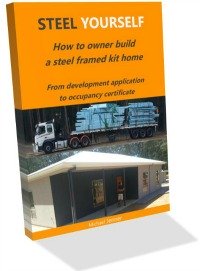 Are you looking for a fantastic full experience description of completing a steel framed kit home, from beginning to end? Steel Yourself is an ebook with excellent graphics, diagrams, submissions and material lists to assist an owner builder to navigate the journey of the owner build.


I will prove to you that any owner builder can plan, submit, build and finish a steel building kithome project.


For more information click here
---
Remember, if you have any questions, have an article or submission, or would like to comment on a kit home, provider or design, please contact me, I'm happy to publish your submissions, reviews and experiences about kit home building and the projects surrounding them.


Follow me on Facebook here and if you like the page...please "like and follow" it!

warm regards
Michael
www.kithomebasics.com
---