Hi

Welcome to the May 2018 edition of KHB Ezine.
This month....
Self-built vs Provider built kit homes?

Early PS: if you are reading this on a phone, turn it sideways to enable landscape view, it's easier to read.

---

Feedback and discussion on the KHB site has got me concerned with the amount of kit home buyers who want the provider to build the kit too. This is the product of some kit home providers wrongly promoting kit homes as complete homes.


Indeed it is not too hard to mistake an offer of a kit home with full inclusions: frame, roofing system, cladding, internal wall linings, doors, windows, arches and skirts, as a complete home ready to erect quickly over the weekend. Especially when PC items (stoves, toilets, vanities etc) flat pack kitchens, floor systems and wardrobes are part of the purchase.


You would know by now that full kit home provision does not include the erection of it. And you would also know that it doesn't include land, and the establishment of a home.


Reality 1: Asking a provider to erect your kit home is exactly the same as asking a regular builder to build you a home. It will cost the same. Why? Because regular builders use the same pre-built frames, roofing materials, floor kits, pre-cut cladding etc as kit homes do, and the provider builder will add the same margin as a regular builder.


Reality 2: A regular home builder normally advertises an 'all inclusive price' including land, DA, connection to utilities, construction, finishing and even landscaping. That is why the price seems high: almost 4 times the cost of a kit home, depending on where the land is located.


So what's Reality 3? How do you determine the quality and reliability of a provider contracted builder (and team)? Most regular home builders have a reputation, history, past clients you can research, and social pages you can peruse. Kit home providers can be researched in the same way, but not their builders. They are commissioned/sourced from the area where your land is located, so how can you judge their worth?

My personal opinion... If you want a builder to build your home, only build with a reputable building outfit. If you buy a kit home, owner build it. As the OB you can: -Save the builder cost margin -Select your own tradesmen -Work at your own pace -Build your own home
---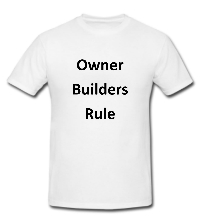 Do you need to look the part on site? Are daggy t-shirts your only option? Well, I have just released these one of a kind 'Owner Builder Rules' Ts ready for you to set the on-site fashion pace. Quality Gildan brand shirts in white in both Large and XLarge.


Subscribers be the first to:
Click T shirts shop to go to my site page to purchase yours (or for a potential OB!)
$22.00 delivered.
---
Need a short ebook on owner building? Your big bonus, just for being a subscriber, is personal access to my Free Ebook:
Kit home groundwork: 5 Crucial Steps.


Download your free PDF version HERE and use your personal password khb9512 (lower case letters-expires in 7 days). If you miss out just contact me.
I'm very happy for you to share this file and newsletter with friends and family.
---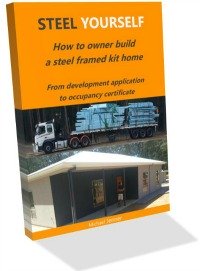 Are you looking for a fantastic full experience description of completing a steel framed kit home, from beginning to end? Steel Yourself is an ebook with excellent graphics, diagrams, submissions and material lists to assist an owner builder to navigate the journey of the owner build.


I will prove to you that any owner builder can plan, submit, build and finish a steel building kithome project.


For more information click here
---
Remember, if you have any questions, have an article or submission, or would like to comment on a kit home, provider or design, please contact me, I'm happy to publish your submissions, reviews and experiences about kit home building and the projects surrounding them.


Follow me on Facebook here and if you like the page...please "like and follow" it!

warm regards
Michael
www.kithomebasics.com
---