Alternate Dwellings Review

This Alternate Dwellings review is of the Website. "A fourth generation building family since 1920, Alternate Dwellings have developed a unique building system and manufacturing process that has combined to produce the acclaimed range of Kit Homes and Kit Barns available today.
The Alternate Dwellings collection of Homes and Barns are available in a broad range of sizes and floor plans, from charming Bed and Breakfasts to expansive Homesteads. A 100% Australian product, everything from the raw material to the finishing touches are produced at their factory in Morwell, Victoria. By producing their own timber, they can control the quality and ensure no imported timber is used in the kits.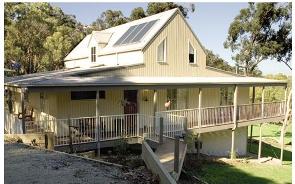 This enables them, along with the option of the latest environment friendly termite and weather treatments, to truly guarantee the kit home product they make" (from website). This provider supplies 'build your own' home kits. Kit homes Victoria provider.
As you can see below I have over 40 submissions and 30 more comments on those submissions and all of them are less than happy with this provider. Seems they mostly build kit homes for clients and from the comments this isn't ending well. Put in perspective, it could be that they have a very large turnover and this is just the disappointed few. But I have very few negative comments on my other 30 odd pages of other kit home provider reviews. If you intend to build it yourself, as an owner builder, it may be fine to work with this crew. It seems, from the feedback, their builders are not good at finishing. Some comments refer to a failing business, others to liquidation, so beware. Due diligence will be required and perhaps a building consultant to assist. Here is a facebook page set up for A.D. information on this subject.
Here is a link to an ABC story October 2016

Website Rating Legend
1 house = poor information
2 houses = some information
3 houses = good information
4 houses = excellent information
Website Ratings for Alternate Dwellings
Website information access: navigation, speed, copy, contact

Owner builder support: OB info, instructions, manuals, pdfs, links

Floorplans: selection of offered floorplans, sizes, styles

Kit Inclusions: lists of inclusions in each stage

Base prices: listed costs for inclusion stages

Description of standards: materials, finishes, prime cost items (PC)

Photos/videos: renderings/graphics, photo slideshows, videos

Website address: www.alternatedwellings.com (defunct)
Location: Officer, Victoria
Return to kit home provider reviews or go to Kit Home Basics Home Page
This comment section has now closed.
Comments on this page have now closed. No more posts will be published. Existing posts will remain on this page.
What others have said...
Click below to see contributions from other visitors to this page...