Appalachian Loghomes Review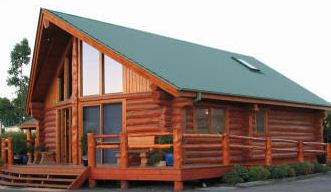 This is an Appalachian Loghomes Review of the Website. "Suppliers of packages (for owner builders) of Australian White Cypress handcrafted, engineered (milled) and timber frame homes. They manufacture genuine engineered (milled) log home packages, using untreated Australian White Cypress, for delivery throughout Australia, as well as for export to the US, Japan and Korea."
They also create handcrafted log homes, which are built in Australia, in full scribe, in chink style and in Post & Beam. They have exported a full scribe handcrafted log restaurant to Korea. They have embarked into the Timber Frame Home market, with the stunning Abbey design in Bowral, NSW, a Guild Hall for the Crossroads Medieval Village in Yass, NSW and some fantastic Timber Frame effects for a hybrid home in Leura, NSW as well as a custom design Hawaiian Frame to Kailua.
This website has great plans and graphics, as well as inclusions lists and provides log cabin kit homes packages to lockup, although no mention of owner builder support or pricing is apparent. Kit homes NSW supplier.

Kithomebasics Website Rating Legend
1 house = poor information
2 houses = some information
3 houses = good information
4 houses = excellent information
Ratings for Appalachian Log Homes Site

Website information access: navigation, speed, copy, contact

Owner builder support: OB info, instructions, manuals, pdfs, links

Floorplans: selection of offered floorplans, sizes, styles

Kit Inclusions: lists of inclusions in each stage

Base prices: listed costs for inclusion stages

Description of standards: materials, finishes, prime cost items (PC)

Photos/videos: renderings/graphics, photo slideshows, videos

Website address: www.appalachianloghomes.com.au
Location:  Emu Plains, NSW Australia
Go back to Kit home provider reviews or

Return to Kithome Basics Homepage