Bathroom Shower Designs
for small bathrooms

Great bathroom shower designs can be achieved with a little forethought and checking on modern fixtures and glass shower doors. A small bathroom can present many obstacles, not least room to put accessories such as towel racks and robe hooks.
One idea I used was placing two towel racks in tandem i.e. one at 1800mm(6') and one at 900mm(3') above the floor. Hobbed showers are very practical and limit the use of those awful chrome carry racks.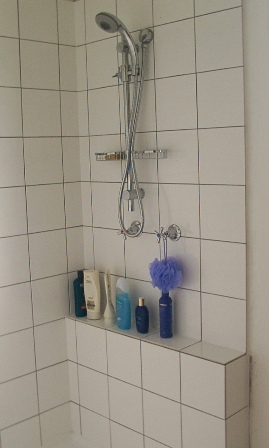 Decisions for showers
Room for a double?
Corner, square, long?
Frameless, semi-frameless?
Solid walled, hobbed?
Glass swinging door, sliders, no door?
Tile, stone, pebble, marble, granite?
Ceiling rose, combination heads?
Foot rest, soap holders, seats?
Modern, classic, Turkish, Greek?

---
Modern shower outlet setups have full assemblies consisting of shower rose, extender hose, soap holder, sliding height adjuster and matching taps. Ceramic shower bases can make a small bathroom look solid and modern.
Recently, glass shower doors have become features of bathrooms, with large swinging glass doors rather than the old triple sliders. As well as framed glass you can get a frameless shower door and glass. This is usually much thicker, highly durable, safe, often toughened architectural glass, anchored by silicon and using large glass hinges.
They create a sense of space as the eye can't focus on the edges, that is, an uninterrupted aesthetic flow of space. Twice as expensive though. For small bathrooms, doors can be hinged to open/pivot in smaller spaces and in less intrusive ways. Because there are no frames there is nowhere for bacteria, mould or grime to accumulate.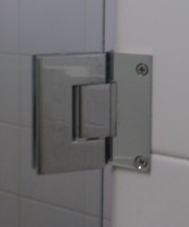 Glass shower door makers can construct a complete screen with door onto any shape shower and it will look excellent. Finish off with chrome accessories such as robe hooks, soap dispensers, secured shower product racks, shampoo/soap dispensers, shower footrest, extendable mirror, razor hooks, and a combination fan / light / heater and the job is done.
For a large walk in shower design go here.
For a ground up shower floor build go here.

Return to bathroom layouts or go to kit home basics home page .