Blue Mountain Yurts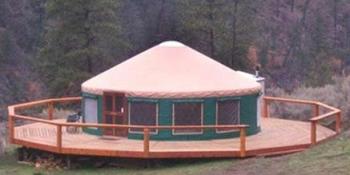 This Blue Mountain Yurts review is of the Website. "Being relocatable, a yurt can be set up for long term, on-going permanent use or as a temporary solution. Most sizes take just a day to put up on a pre-prepared decking or platform.
They can be wired, heated and plumbed conventionally or with renewable technologies and mobile modular systems to integrate efficiency, flexibility and sustainability for all occasions.
Create an entire living space with bedrooms and living areas, any type of simple or modern kitchen, bathroom, loft floors and storage. Expand outdoor living onto the deck. Connect or place yurts nearby to create additional spaces and configurations.
Blue Mountain Yurts are a durable, modern, high tech version of the traditional Mongolian yurt. Heavy duty, fire retardant, insulated, industrial membranes and fabrics combine with engineered timber rafters and framing to keep out all water when snow, hail, and mildew.
Designed and manufactured by specialists with 30 years experience these high quality, versatile can be a practical, cost effective solution to many housing, accommodation and shelter needs" (website text). Blue Mountain Yurts supply yurt kits for owner builders looking for simple house plans and structures. You would be hard pressed to get authority approval to live permanently in one or even to get one certified as a dwelling, but as a fantastic outbuilding, workplace, meeting area, liveable getaway..love them.  Overall a great site.
KBH Website Rating Legend
1 house=poor
2 houses=some information
3 houses=good detail
4 houses=excellent coverage
KHB Ratings for Blue Mountain Yurts Website

Website information access: navigation, speed, copy, contact

Owner builder support: OB info, instructions, manuals, pdfs, links

Floorplans: selection of offered floorplans, sizes, styles

Kit Inclusions: lists of inclusions in each stage

Base prices: listed costs for inclusion stages

Description of standards: materials, finishes, prime cost items (PC)

Photos/videos: renderings/graphics, photo slideshows, videos

Website link: bluemountainyurts.com
Location: Byron Shire, NSW
Go back to kit home provider reviews or goback to Kit Home Basics Homepage