Achieving kitchen balance
in small kitchens

Looking for kitchen balance? Join the club. As one of the most frequently used rooms in the house, a well-planned kitchen is a must. Good planning leads to the well-balanced kitchen everybody craves. So, what is kitchen balance? It describes a kitchen that allows ready and convenient access to the key facilities and appliances that makes using the kitchen a pleasure. Achieving that in small kitchen areas can be relatively easy with today's modern appliances.
Back in the 1950s, when small kitchen designs were the norm and were usually compact wrap-arounds, the 'kitchen triangle' or 'work triangle' were all the rage. The idea was to have three work centres within a couple of metres of each other in a triangular shape: the stove/oven, fridge and sink. This was perfect for a single user, usually the 'lady of the house', but not ideal for family culture in the 2000's.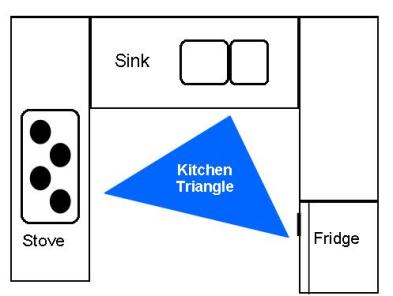 The shape of the kitchen depends entirely on your space and that can be the final word if it is limited. Small kitchens are often easier to work with but spaces can be challenging and compromises need to occur. A galley, for instance, is not the best design for achieving balance and it can get cramped, but many cooks swear by them.
Kitchen balance decisions
Design decisions that will suit your needs will be dictated by how the kitchen will be used.
Ask yourself...
Who spends most time in the kitchen?
How many people are likely to use the kitchen at one time?
How long do people spend in the kitchen? (For example family members might 'graze' from 4pm to 8pm).
Does the kitchen often need to cater for large gatherings or parties?
Consider how human traffic will flow into and out of the kitchen and position your appliances accordingly.
No matter what your needs, it's still a good rule of thumb to have the kitchen sink no more than a few steps away from the cook-top and oven. Broader bench tops, wider ovens and larger sinks are usually the focal point of the changes. A good start would be to draw your space and try different positions for your appliances before you lock in your plan.
Need a large kitchen tile splash-back? Go here to see how I made mine.
Go to main Kitchen Cabinets page or go back