Postbeam Review from KHB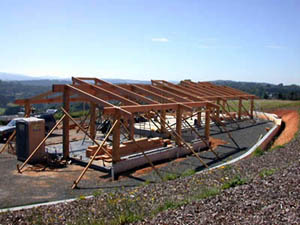 This is a Postbeam review of the website. "Post and Beam homes are constructed using a traditional building method which has been tested all over the world for many centuries. They use large post and beams to create the load bearing frame. This means that internal and external walls do not support the roof as do their our unique building method means that there is virtually unlimited design flexibility.
Whether it is a quaint cosy cottage or a magnificent mansion the home can be whatever the purchaser wanst. They sit down with each client face to face and discuss their individual living requirements." (Webcopy)
A reasonable website and a great concept for the owner builder. Good support, graphics and specs, but no idea of pricing. Note: Kits are only supplied 'to Lockup'. This provider supplies 'build your own' home kits. Kit homes Victoria provider.
KBH Website Rating Legend
1 house = poor information
2 houses = some information
3 houses = good information
4 houses = excellent information
KHB Ratings for Post and Beam site
Website information access: navigation, speed, copy, contact

Owner builder support: OB info, instructions, manuals, pdfs, links

Floorplans: selection of offered floorplans, sizes, styles

Kit Inclusions: lists of inclusions in each stage

Base prices: listed costs for inclusion stages

Description of standards: materials, finishes, prime cost items (PC)

Photos/videos: renderings/graphics, photo slideshows, videos

Website: www.postbeam.com.au
Location: Clifton Hill, Victoria
Go back to Kit home provider reviews or

Return to Kit Home Basics Home Page