Ral Homes Review from KHB

This is a RAL homes review of the website. "The RAL Building System is a new approach to housing for all people with the minimum of fuss. The Homes are original in design, Australian made, cost effective and packaged easily for Kit distribution without complications.
Basically, the System involves prefabricated structural panels being bolted together to form a series of segmented and intersecting arches to make a house of varying & infinitely expandable size.The highly attractive internal appearance with intersecting arches is complimented by natural light from large windows." Website copy
This is a great site showing a unique style of kit. Good plans, prices and support outlined here. This provider supplies 'build your own' home kits. Kit homes Victoria provider.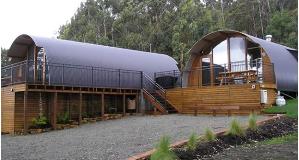 KBH Rating Legend
1 house = poor information
2 houses = some information
3 houses = good information
4 houses = excellent information
KHB Ratings for RAL site
Website information access: navigation, speed, copy, contact

Owner builder support: OB info, instructions, manuals, pdfs, links

Floorplans: selection of offered floorplans, sizes, styles

Kit Inclusions: lists of inclusions in each stage

Base prices: listed costs for inclusion stages

Description of standards: materials, finishes, prime cost items (PC)

Photos/videos: renderings/graphics, photo slideshows, videos

Official website: www.ralhomes.com.au
Location: Melbourne, Victoria
Go back to Kit home provider reviews or

Return to Kit Home Basics Homepage

Provider reviews