Shower Base Installation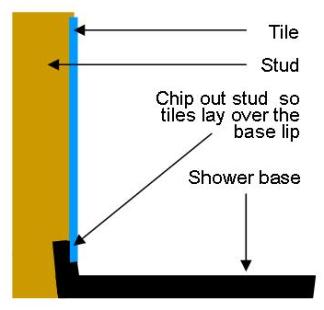 This shower base installation is for a solid pre-cast ceramic base to be used in small bathrooms and is relatively simple. Make sure your base has adequate slope, a tile flange and is relatively slip resistant.
There are other types of shower bases, including fibreglass, acrylic, marble, custom tile and complete bases with shower surrounds moulded in.
Some of these are handyman jobs, but others require professionals and a lot of planning. Some fibreglass and acrylic bases have thin paint surfaces and scratch or discolour easily.

Pre-cast Shower Base Installation

Initially, "check" out the studs of the surrounding frame so the base flange can slip under, enabling the tile wall to lay over the flange. Examine the base and determine the drain exit hole beneath it is in the correct position. Start by priming the floor it will sit on with sealant and if necessary, leveling it with a "self leveling compound". Give it a day to dry before laying it gently on the surface to check it's positioning.

At this stage you need to apply a floor wet sealant compound to waterproof the shower and walls around it.

If you are installing a fibreglass base make sure it is well supported underneath to limit squeaking and eventual paint corrosion from flexing. I was retrofitting this base so a bit of demolition was required.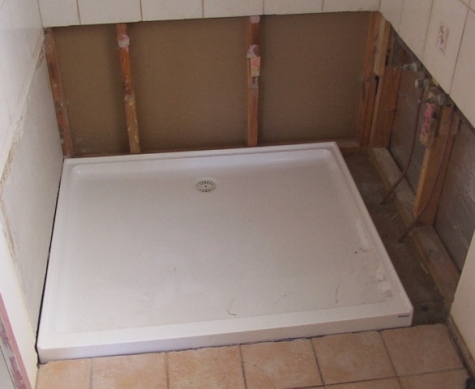 Checking the shower base fitting
Tip: Check shower base positioning and levels before waterproofing
Some plumbers will squirt a bead of silicon around the under-edge, but a ceramic shower base weighs 30 kilograms and cannot move sideways so that's your choice. At this point you can start looking at the type of glass shower doors, tiles and tap assemblies that you want to install. Next task is to connect up the drain and shower trap.
Go to my Shower drain and trap install page
Concrete floor shower base construction

Return to Bathroom layouts or go to kithomebasics homepage.