Spherical Prefab Structures Review from KHB

This Spherical Prefab Structures review is of the website. "For four generations, Spherical Prefab Structures has been designing and building energy-efficient, low-cost prefab steel structures.
This web site has been created to share some of the great architectural prefab steel structures of the past and present in the hope of exciting your imagination with alternative modern prefab ideas that take advantage of the strength and efficiency of the spherical prefab steel structures.
Spherical Prefab Structures is a diversified full-service building contractor. Offering the most affordable modern prefab steel housing kits for the do-it-yourselfer and the turnkey custom home builder.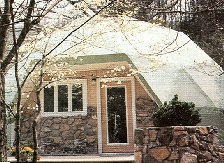 From consultation to engineering and design of your prefab steel structures plans, to the manufacturing and construction of your prefab steel structures kit (from web page script)" This provider supplies geodesic dome kit home structures. There are no descriptions of internal walls, linings, doors, floorplans or PC items and no price structures. Owner builder info is also not apparent.
KBH Website Rating Legend
1 house=poor
2 houses=some information
3 houses=good detail
4 houses=excellent coverage
KHB Website Ratings
Website information access: navigation, speed, copy, contact

Floorplans: selection of offered floorplans, sizes, styles

Kit Inclusions: lists of inclusions in each stage

Base prices: listed costs for inclusion stages

Description of standards: materials, finishes, prime cost items (PC)

Photos/videos: renderings/graphics, photo slideshows, videos

Official website: Sphericalprefabstructures.com
Location: No information (somewhere in the USA)
Return to Kithomes US Reviews
Or go back to Kithomebasics home page


Provider reviews