Statewide Homes Review
from KHB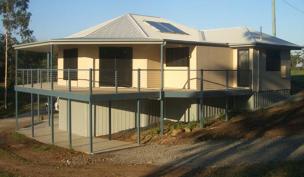 Statewide Homes, now Statewide Constructions, has 30 years experience which forms the basis for the Owner/Builder kits which are delivered to all eastern states, with arrangements available for deliveries to other areas.They offer 'Staged Deliveries' so that you don't need to worry about security and weather damage to items you won't need till late in your construction process.

Innovation, experience and feedback from their clients ensures that each Statewide Home kit is designed and detailed with the Owner/Builder in mind, to ensure simple and fast construction on site. This provider supplies and specialises in 'build your own' home kits.
KBH Rating Legend
1 house = poor information
2 houses = some information
3 houses = good information
4 houses = excellent information
KHB Ratings for Statewide site
Website information access: navigation, speed, copy, contact

Owner builder support: OB info, instructions, manuals, pdfs, links

Floorplans: selection of offered floorplans, sizes, styles

Kit Inclusions: lists of inclusions in each stage

Base prices: listed costs for inclusion stages

Description of standards materials, finishes, prime cost items (PC)

Photos/videos: renderings/graphics, photo slideshows, videos

Official website: www.statewidehomes.com.au
Location: Toowoomba, Qld
---
Kit home provider reviews has no affiliations with providers and receives no payment for the reviews made.
Return to Kit Home Basics homepage.