Steelframe Buildings Review from KHB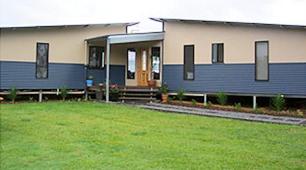 This is a Steelframe Buildings review of the website. "Steelframe buildings are all steel, fully engineered, easy built system with unlimited applications. An average 100 sq metre kit home can be erected and locked up in a matter of days. The kit home is then ready for the owner builder to supply and install their choice of internal linings, kitchen and bathroom fittings to suit their requirements.
Kit homes built in days, can be sent almost anywhere in flat pack form with a simple on site screw together assembly." (website copy) You can also order pre-built transportable homes. This provider supplies 'build your own' home kits. Kit homes Queensland provider. Ed....This site is pretty basic. No mention of price structures or owner builder support.

KBH Website Rating Legend
1 house = poor information
2 houses = some information
3 houses = good information
4 houses = excellent information
KHB Ratings for Steelframe Buildings site
Website information access: navigation, speed, copy, contact

Owner builder support: OB info, instructions, manuals, pdfs, links

Floorplans: selection of offered floorplans, sizes, styles

Kit Inclusions: lists of inclusions in each stage

Base prices: listed costs for inclusion stages

Description of standards: materials, finishes, prime cost items (PC)

Photos/videos: renderings/graphics, photo slideshows, videos