Timberset Homes Review from KHB

According to the site, Timberset Homes offer something completely different to the more conventional kit home/home builders around today. As standard their homes are constructed of solid timber, meaning that all walls in the home are constructed from solid 45mm thick tongue and grooved pine wall planks that inter lock for strength and have an ascetically pleasing finish. All homes are custom designed for client's individual needs and can vary in size and shape from on-site cabins or granny flats to multi-story luxury homes.
They also offer many different combinations of materials and finish's for personal appeal. Whether the client prefers internal features like plaster internal walls and ceiling, Rustic Stone feature walls or exposed beam and rafter ceilings. Externally there is a choice to have standard external timber half plank or exterior finish's like Colorbond, Rustic Stone, mud bricks, rammed earth or a combination of several different claddings. This provider supplies 'build your own' home kits and is a Kit homes Victoria provider.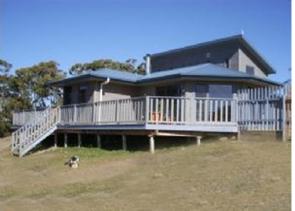 KBH Rating Legend
1 house = poor information
2 houses = some information
3 houses = good information
4 houses = excellent information
KHB Ratings for Timberset site
Website information access: navigation, speed, copy, contact

Owner builder support: OB info, instructions, manuals, pdfs, links

Floorplans: selection of offered floorplans, sizes, styles

Kit Inclusions: lists of inclusions in each stage

Base prices: listed costs for inclusion stages

Description of standards: materials, finishes, prime cost items (PC)

Photos/videos: renderings/graphics, photo slideshows, videos

Official website: www.timberset.com.au
Location: Inverloch, Victoria
Go back to Kit provider reviews

or return to Kit Home Basics Homepage

Provider reviews