Tomsloghomesandcabins Review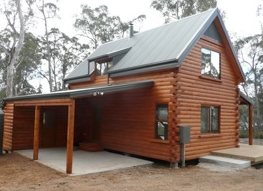 This is a Tomsloghomesandcabins Review of the Website. This outfit builds and supplies timber/ log cabin kit homes.
"Timber type: For building, slow grown pine trees, PINUS SYLVESTRIS & PICEA ABIES (SPRUCE)are used, harvested from areas where average temperature is below 5 degrees Celsius. Low temperature guarantees slow growth and tough texture.
Timber process: Before building process, logs are dried and heat treated to meet the conditions of Australian Quarantine and Inspection Service. Logs are shaped according to clients wish: solid round log / solid square log / laminated log (very tough gluelam).
Timber profiles: Wall profiles (Internal & External) can be round/ square dressed - 180mm or square laminated timber - 202mm. Your chosen profile can reflect a modern or traditional look.
Solid Timber construction is the house-building method of today and of the future. In terms of both construction costs and ecology, solid timber houses guarantee a durable, environmentally-friendly and high quality home for generations.

Wood is a strong, energy efficient material that creates warm, healthy, safe and not least economical living environments. The use of wood as a renewable construction material guarantees low-carbon-emission building, a permanent incentive towards reforestation and the storage of CO2.
A solid timber house does not lead to deforestation. On the contrary, when FSC and PEFC certified, it guarantees a sustainable management of forests and even an increase of forest areas in Australia and the entire world." (Website copy)

This is a sparse site with little to encourage an owner builder. Kit supply has a short page: prices are based on square meterage, with a short list of inclusions and no mention of support. Kit homes Tasmania supplier.
I reviewed this site as I believe an owner builder could build one of their cabins supplied in kit form, but this is not verified and no owner builder support is mentioned on the site. 
Kithomebasics Website Rating Legend
1 house = poor information
2 houses = some information
3 houses = good information
4 houses = excellent information
Ratings for Appalachian Log Homes Site

Website information access: navigation, speed, copy, contact

Owner builder support: OB info, instructions, manuals, pdfs, links

Floorplans: selection of offered floorplans, sizes, styles

Kit Inclusions: lists of inclusions in each stage

Base prices: listed costs for inclusion stages

Description of standards: materials, finishes, prime cost items (PC)

Photos/videos: renderings/graphics, photo slideshows, videos

Website address: www.tomsloghomesandcabins.com.au
Location:  Parramatta Creek Tasmania
Go back to Kit home provider reviews or

Return to Kit Home Basics Homepage