Hi

Welcome to the October 2018 edition of KHBZine.
This month....
Kit home pricing

Early PS: if you are reading this on a phone, turn it sideways to enable landscape view, it's easier to read.

---
In previous newsletters I have covered budgeting, real costs, and what you get for your money, so let's look specifically at kit home pricing for the owner builder. As I have said previously, don't be fooled by builders who brag about using kits to save money or time, they all use them now. I am relating price options from an owner builder's perspective. In the last issue I described modular or pre-fab homes. This issue is about kit homes, ready to build/assemble on your foundations.


I have done some research for you and gathered some web pages which give specific designs and pricing of kit homes ready for delivery. I will firstly spell out 4 parameters so your comparisons will be apples vs apples.
1. Look for the stage of kit you wish to buy. That is, do you want a frame kit only, or perhaps to lockup: roofing, cladding, soffits, exterior doors and windows, or a full kit: add interior linings and doors? When you choose your stage, stick with that stage when comparing prices.


2. Compare the quality level of standard components in the inclusion lists. Most standard kits come with steel roofing, fibro external cladding: blueboard or siding, gyprock linings and aluminium windows. If you want better, add money.


3 Settle on a specific size and shape: for this exercise, 150 sqm, single story, 3 bedroom, 2 bathroom, no internal garage, for a slab.
4. So now you have chosen a set of parameters you can look at your price point. A reasonable standard kit with these specifications can be found for between $60-80,000 on any kit provider website. And that is exactly what you will pay, unless you upgrade. Which you may well do: bigger or more windows, an extra sliding door, a higher ceiling, and maybe steel screens. That's another $10-15,000.


If you want 5 or more bedrooms, an under roof garage and a veranda, you are looking at another $50-80,000. Remember your budgeting. This price does not include flooring, paint, bathroom and laundry setup, kitchen, slab or raised floor and house construction. Nor does it include the DA, clearing, site cut, and utility services. That may be another $200,000 more, and then you can add your land costs. But you knew that.


How do I start looking for a kit home in my price range?


Most kit home providers have a very good website with specific design and price pages. If they don't have prices they will have a downloadable brochure, which will be their most recent pricing. Don't be shy, give them your email address and download it.


Let's look at some pages for you to peruse: I've only listed pages that have prices on their pages.

Paal kit homes
Imagine kit homes
Met kit homes
Ezy homes
Kit-homes
Post beam
Qld shed markets
Valley kit homes
Straight edge
Instant home solutions
Best granny flats
And here is my webpage on kit home prices.


Remember, apples with apples, and stick to your price-point.
---
New subscribers..Need a short ebook on owner building? Your big bonus is personal access to my Free Ebook:
Kit home groundwork: 5 Crucial Steps.


Download your free PDF version HERE and use your personal password khb4656 (lower case letters-expires in 7 days). If you miss out just contact me.
I'm very happy for you to share this file and newsletter with friends and family.
---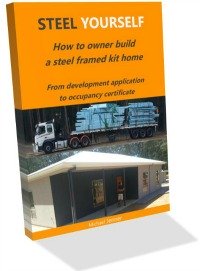 Are you looking for a fantastic, full experience description of completing a steel framed kit home, from beginning to end? Steel Yourself is an ebook with excellent graphics, diagrams, submissions and material lists to assist an owner builder to navigate the journey of kit home owner building.


I will prove to you that any owner builder can plan, submit, build and finish a steel building kit home project.


For more information click here
---
Remember, if you have any questions, have an article or submission, or would like to comment or on or review a kit home, provider or design, please contact me, I'm happy to publish your submissions, reviews and experiences about kit home building and the projects surrounding them.


Follow me on Facebook here and if you like the page...please "like and follow" it!

warm regards
Michael
www.kithomebasics.com
---