Kit Home Prices

Asking "what are kit home prices like compared to builder built homes?" sounds like a valid question, but in reality, they must be compared in true perspective. That is, apples with apples! Builders build from the ground up. They do everything from plans to setting out, from foundation to roofing. In reality, the cost to build a home from a kit is almost twice the cost of the kit itself. That is, the actual kit delivery comes after many processes have taken place. For example: drawing of plans, soil tests, surveying, house pad excavation and foundations. There's $20-40k without the cost of land.
If the kit is only costed to lockup, as most are, not included are the costs of the interior lining, doors, flooring, kitchen, bathroom, plumbing, drainage, electrical and painting. Not forgetting air con, landscaping, driveways, wardrobes, tiling and lights. There's another $50-$80k.
The cost of kit homes vary between providers, and according to the size, design and style of the house. Expect costs to increase if you opt for higher quality items over what the provider lists as inclusions or if you want to add extras or change the design. You get what you pay for.

There are a lot of terms used by kit home providers that can be confusing for the potential buyer such as, 'to lockup', 'full kit', 'all inclusions' and the ever popular 'basic kit'. These terms are explained in the next section.
Kit home prices: What does it all mean?

Let's start with the term 'to lockup', also called a 'basic kit'. This is a stage one kit and means a house kit that is supplied with enough materials to lock up the house and includes cladding, roofing and insulation, windows and exterior doors. It also includes interior framing of course and a complete set of submittable house plans and certifications. 'To lockup' does not include foundation materials. This is one way to compare kits as it is to an exact level of completion. The differences in prices will come when material specifications differ e.g. cladding, roofing, hardwood/softwood etc.
Then there is the 'full kit'. Now this is where the fun starts. A full kit from one provider can be very different from another. A full kit includes stage one and stage two, which is the interior wall and ceiling linings, interior doors and door furniture, mouldings and robes.
Now where it gets tricky is that stage three is sometimes included in the "full kit" but not always. Stage three can include foundation piers, flat-packed kitchen cabinets, kitchen faucets, bathroom basics-toilet, vanity, bath, shower-base and faucets.
Stage three adds considerably to the cost of kit houses if high end items are chosen. Most prices do not include delivery or foundations/raised floors.

Tip: Compare a specific square footage, single level, wood framed kit cost to lockup from one supplier with another: apples with apples.

Some examples of kit home prices from supplier websites (Please Check for current prices)
---
Ezy Homes Australia
Full kit

$70,000 to $120,000 (Many 3br kits under 100k) 
Post and Beam
To lockup
3br Loft $106,000 
4br Clerestorey $109,000 to $200,000+
Kithomes Nationwide
Full Kit
1-2 BR $40,000-$90,000
3 BR $90,000-$200,000
Valley Kit Homes
Full kit
Granny flats $20,000-$50,000
2 BR $43,000-$120,00
3 BR $80,000-$180,000
PAAL Kit Homes
Full kit
Select Kit Homes
Lock Up
2 BR $31,000-$46,000
3 BR $58,000-$114,000
Blue Mountain Yurts

Complete Yurt on your foundation/deck

6 metre (20') diameter $17,000
7 metre (23') diameter $19,000
9 metre (29') diameter $23,600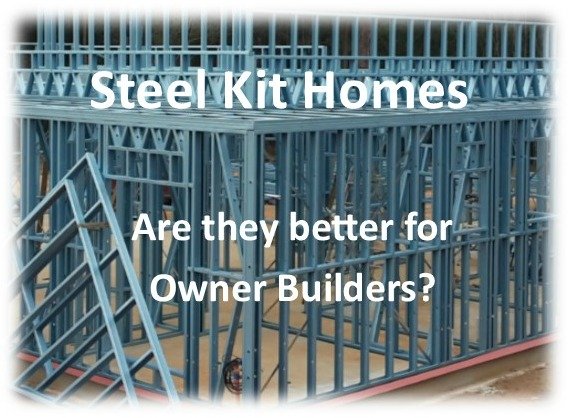 Kit home prices shown are for kits supplied ex-factory. No land, foundations, not erected or inspected. They are mostly full kit prices, but the cost to build a kit home will be at least 100% more plus land. See Real Cost of Kit Homes here. Kit home prices on the net should be taken with a grain of salt and investigated to see the true nature of the offer, especially if you are an owner builder.
For example, a recent 'due diligence' exercise I did with a local kit home provider (Valley Kit Homes) revealed a standard 4 bedroom kit delivered to my site, was $58,000AUD. This included interior linings, doors, windows, skirts and architraves. After upgrading to bushfire rated windows, sliders and screens, raising the ceiling to 2750mm, and a cladding upgrade to blueboard, the price went up to $78,000AUD. These were MY additions, but I thought at the time they were valid and worth the price.
Now I wanted to build on an uncleared block, so the price of the kit was secondary: compared with the cost of land clearing and site cut, concrete slab, driveways, power and phone connection, septic system, council DA costs, site survey, soil tests, fences, pump, electricians, plumbers, lining installation, tiling and flooring etc, which amounted to around $160,000 AUD. So like I explained in the last paragraph, add 100% + to the cost of kit homes to get ball park completion figure.
Did I mention the cost of the land? Don't forget that!

Check out my General Kit Home Inclusions Page or 
Go to my Kit home plan review list here
Go to Kit Home Basics Homepage
---
Comments
Hi Michael
After some prices for a ranch 3 bedroom?

Ed Reply
Hi Eli

Guess you are American? Can't say that I have heard of a kit home described as 'Ranch' here in Australia. Are they like the dressing? Sorry, bad joke. There are a million 3 bedroom kits available starting at about 50k through to 150k depending on styles and where they are manufactured. 
I don't sell or recommend kit homes, just help owner builders to build them. If you use the web, and I guess you do as you are in my site, search for "kit homes victoria". The kit home providers have good web sites with plans and prices. I'm sure you will find a suitable 'Ranch' house. Remember, the quoted price does not include, land, site works, building it, slab, development application,  fencing, plumbing, electrical, paint, landscaping etc. 
best of luck with your search.
Michael: Kithomebasics