Hi

Welcome to the February 2019 edition of KHBZine.
This month....
Making kit homes sustainable

Early PS: if you are reading this on a phone, turn it sideways to enable landscape view, it's easier to read.

---
Kit home design is at last becoming responsive to consumer need for sustainable and passive solar design. Although there are few affordable kits which are specifically designed for this, most of these modern features can be specified and engineered into the design of any kit home on the market. Most providers will be only too happy to adjust designs and add specifications to suit your needs.


Both passive solar and sustainable concepts can be mixed but let's start with solar. Passive solar is mostly about cooler climate adaptation, but not always and, in my case, it was about heat and how to keep it out.


Passive solar elements are about adding, controlling or eliminating sunlight and heat into the house via windows or eaves etc, having thermal mass to store the heat, and distributing or dispursing that heat. You can start by orientating your house to face the equator.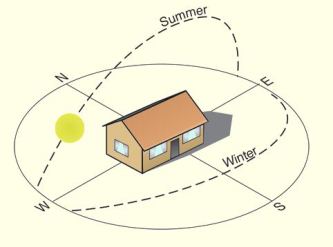 On request, my kit home provider added larger sliding doors and larger windows for the northern facing walls and smaller ones for the west. I added a high, 1200mm wide longitudinal shade sail that effectively extended my north eastern eaves. This stopped direct sun from hitting and heating the cladding in summer, but allowed the lower sun to stream in the large windows in winter... See how I set it up here... Waterproof shade sails

I also have a full length pergola on the western side to shade that side of the house. 'See it here' I also built a north-western outdoor room which shades that side as well. See how I did this here... Wooden pergola

I have a concrete slab which acts as a heat sink when the winter sun hits it. I specified high (2.75m) ceilings with lots of ceiling fans (reversable) to dispurse the ceiling heat. I also requested high R value sisalation for under the corro roof, which is painted close enough to white. I added wool batts to the ceiling and intend to add a couple of whirlygigs to extract the heat from the roof space soon. It is a comfortable house without air con. Only in the heatwaves when it's 38c or above does it get uncomfortable... so we jump in the plunge pool then.


As for sustainablity, I have a 2.5 kw solar power array and a solar water heater. I am yet to add batteries as the lithium type is still too expensive. And I would need a hybrid inverter too. My power bill is about $60 a month now so we have got our systems working ok. I have a 75,000 ltr steel water tank fed by 7 charged downpipes. I set up a wood heater to reduce electricity and use the excess wood on my property, see my set up here... Wood heater page

Lastly, I have planted Lillypillies and Photinias near the western side of the house to provide shade to the house in summer.

Now I'm no sustainability guru and you probably know many more upgrades than I have used, but my point is that a kit home can be more than just a standard dwelling. In a world with a changing climate, best do yourself a favour. Here are some related pages on my site...
Sustainable house design Passive solar Residential solar House insulation tips
---
New subscribers..Need a short ebook on owner building? Your big bonus is personal access to my Free Ebook:
Kit home groundwork: 5 Crucial Steps.


Download your free PDF version HERE and use your personal password khb7423 (lower case letters-expires in 7 days). If you miss out just contact me.
I'm very happy for you to share this file and newsletter with friends and family.
---
I have a great ebook for those contemplating a steel kithome owner-build project Here
---
Remember, if you have any questions, have an article or submission, or would like to comment or on or review a kit home, provider or design, or suggest a subject for this newsletter, please contact me, I'm happy to publish your submissions, reviews and experiences about kit home building and the projects surrounding them.


Follow me on Facebook here and if you like the page...please "like and follow" it!

warm regards
Michael
www.kithomebasics.com
---