Hi

This week I have added a new Owner Builder navigation button to my site which, when clicked, displays NINE pages especially written for the owner builder.
They are:
Owner builder FAQ
Owner builder mistakes
Distance education for OBs
Project management planning
Top 5 ways to build a kit home
Due diligence checklist for buying land
Owner builder planning checklist
Kit home inclusion lists
Terminology
---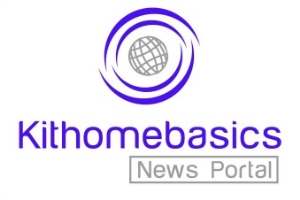 Here is some important news about news!!!!

I've been watching kit home news for some time now trying to get some up to date info to share. But the fact is that it is scarce and it comes in dribs and drabs from everywhere. And the most silent? Kit home manufacturers. They wouldn't know how to make a press release if you paid them.
I for one would like to know of new designs, discounted kits, new advances in manufacture, delivery, construction etc.


So I have taken the bull by the horns and started a News Portal just for us.
This portal is in its infancy, but already has a couple of dozen articles to read. So far its covering news on pre-fab, modular, granny flat, tiny homes, as well as industry news that can assist the owner builder.

Have a look at it here: KHB News Portal
---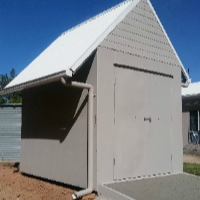 A New Shed Page!!!


I assembled this steel framed garden shed using all the tricks I had learnt building the steel house frame. The most important being not slashing myself on the cut steel edges.
I thought I'd build something a little different, with a couple of functions. This outdoor shed would house the rider mower and hand mower, plus have storage for garden and yard stuff, and lastly have a dry place on the side to store cut fire wood.
I describe in detail how to set up the foundation, build a floor, clad, roof and finish a quirky outdoor shed. Click here for more..
---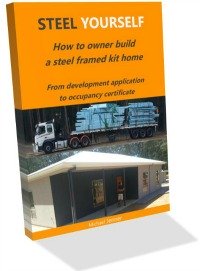 I have just published my 4th ebook which covers the complete owner builder process of building a steel framed kit home.
Find more info on my ebook here...

You can find the ebook list here...

If you have any questions, comments or article contributions you wish me to publish, please email me:

michael@kithomebasics.com

Best of luck with your projects

Michael
kithomebasics.com>
---