Hi

Welcome to the August 2018 edition of KHB Ezine.
This month....
Our sites new enhanced security

Early PS: if you are reading this on a phone, turn it sideways to enable landscape view, it's easier to read.

---
Great news for our visitors as the Kithomebasics site has been upgraded to be a Secure Site using HTTPS protocols. You will now notice when surfing using Google search at the left hand side of the address bar a Lock symbol and the word Secure, showing you are on a secure site. A Red Triangle with the warning 'Not Secure' will be shown if you go to non secure sites. Only those with the Lock symbol are deemed safe to view. Additional, the KHB site had been converted to a modern Responsive Design to assist rapid page loading, and mobile viewing.


Buying any product from this site: T Shirts, Ebooks etc is via leading offsite vending systems: Paypal and Clickbank, both using McAfee, Norton and Secure payment safeguards.


We are now also GDPR compliant (thanks to Mr Zuckerberg's antics) and have updated our Privacy Policy page to enable easy Opt Outs of ad tracking. You will notice a Cookie opt out button on entry to KHB to click if you don't want ad targeting. It's on all compliant sites now.


Safe surfing now.
---
Owner building pages
Whatever type of home you want to build, be it a kit home, prefab/modular, or organic/natural methods, you will need owner builder knowledge and support. Kithomebasics continues to add useful OB pages designed for easy reading and quick reference. Here is a selection to click through:


Owner builder FAQ
Beginning a kit home build
Groundwork for OBs
Choosing a kit home
Kit home FAQ
Distance education for OBs
Project management planning
Top 5 ways to build a kit home
Due diligence checklist for buying land
Owner builder planning checklist
Kit home inclusion lists
OB Red Tape
Kit home prices
Terminology
Site Safety
OB Ebooks
Budgeting for OBs

---
Do you need to look the part on site? Are daggy t-shirts your only option? Well, I have just released this one of a kind 'Owner Builder Rules' T ready for you to set the on-site fashion pace. Quality Gildan brand shirts in white in both Large and XLarge.


Subscribers be the first to:
Click T shirts shop to go to my site page to purchase yours (or for a potential OB!)
$22.00 delivered.
---
Need a short ebook on owner building? Your big bonus, just for being a subscriber, is personal access to my Free Ebook:
Kit home groundwork: 5 Crucial Steps.


Download your free PDF version HERE and use your personal password khb4521 (lower case letters-expires in 7 days). If you miss out just contact me.
I'm very happy for you to share this file and newsletter with friends and family.
---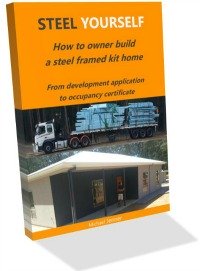 Are you looking for a fantastic full experience description of completing a steel framed kit home, from beginning to end? Steel Yourself is an ebook with excellent graphics, diagrams, submissions and material lists to assist an owner builder to navigate the journey of the owner build.


I will prove to you that any owner builder can plan, submit, build and finish a steel building kithome project.


For more information click here
---
Remember, if you have any questions, have an article or submission, or would like to comment on a kit home, provider or design, please contact me, I'm happy to publish your submissions, reviews and experiences about kit home building and the projects surrounding them.


Follow me on Facebook here and if you like the page...please "like and follow" it!

warm regards
Michael
www.kithomebasics.com
---