Workplace safety tips
for kit building sites

These workplace safety tips will keep the kit building site free of hazards, and low on risk. The term 'Workplace Health and Safety' is an area concerned with protecting the safety, health and welfare of people engaged in work or employment.
The goal of the building worksite is to foster a safe work environment for yourself, co-workers, family members, inspectors, suppliers and tradespeople entering the workplace environment. All of whom can injure themselves on the site. Before we get into the workplace safety tips, lets ask some questions and check the facts.
Why worry about WHS?

If I got injured I stopped work, my time plan was shot, the missus was furious, I was off-site, and took time to heal. If someone else was injured...big problem. PL insurance is good to a point and most people accept responsibility for being a klutz, but some people get nasty when it's not their fault. The fact is, people have the right to a safe workplace, end of story.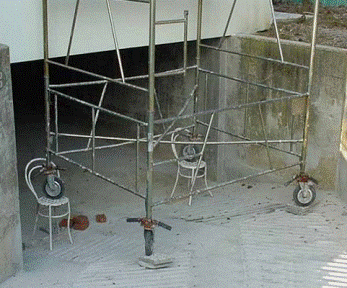 Workplace safety facts

One of the big risks on building sites is fatigue. Fatigued workers:
• react more slowly than usual
• fail to respond to things going on around them
• respond incorrectly
• show poor logic and judgement
• are unable to concentrate
• are less motivated and more forgetful
• have a greater tendency for taking risks
And facts from around the world..

Each day, an average of 6,000 people die as a result of work-related accidents or diseases, totaling more than 2.2 million work-related deaths a year
Hazardous substances kill about 438,000 workers annually, and 10% of all skin cancers are estimated to be attributable to workplace exposure to hazardous substances
Asbestos alone claims about 100,000 deaths every year and the figure is rising annually
Each year there are at least 60,000 fatal accidents on construction sites around the world
One in every six fatal accidents at work occurs on a construction site
In industrialized countries, as many as 25% to 40% of work-related deaths occur in on construction sites, even though the sector employs only 6% to 10% of the workforce
In some countries, it is estimated that 30% of construction workers suffer from back pains or other musculoskeletal disorders
Workplace hazard assessment

Hazard analysis or hazard assessment is a process in which individual hazards of the workplace are identified, assessed and controlled or eliminated as close to the source (location of the hazard) as reasonable and possible. So on a building site there are many potential hazards:
~Mechanical hazards: equipment, tools, falls, trips, entanglement and being struck by objects
~Physical hazards: noise, electricity, heat, cold and vibration
~Biological hazards: bacteria, virus, fungi and mould
~Chemical hazards: fuel, acid, particulates, fumes and fire
Kit builder site hazards

Some of the hazards I encountered on my site included noise from the generator, hammer drill, speed saw and fibro cutter, working at height on ladders, on framing and on roofing, working all day in the sun, getting injured by the equipment I was using, having things fall on me and tripping over nearly everything.

The terminology used in WHS varies, but generally speaking:
A hazard is something that can be eliminated or controlled. A risk is a combination of the probability that a particular uncontrolled hazard can cause harm and the severity of the harm involved. A Risk Assessment should identify the hazards, evaluate the risk and identify and prioritize appropriate control measures.
Definition of risk management

Policies, procedures, and practices involved in identification, analysis, assessment, control, and avoidance, minimization, or elimination of unacceptable risks.
Workplace safety tips to keep your site safe

Plan to and keep your site clear of waste, clutter, chords, off-cuts and general rubbish

Prepare and or build clear paths, entries and ramps to frequently used work areas

Utilise gantries, scaffolding, ropes to anchor points, safety harnesses and guardrails

Use well maintained tools and equipment, discard damaged equipment




Use dust collectors on cutting equipment




Ensure ladder safety by bracing ladder footings and tying off to reduce slippage




Use well known sun safety tips such as wearing a decent hat, using sunscreen and wearing a long sleeved shirt




Use hazard symbols/signs, safety posters and especially bio hazard signs




Wear appropriate safety gear when operating equipment e.g. gloves, masks, prescription safety glasses, ear plugs, face shields, solid boots etc




Have a well equipped first aid kit in an accessible place




Keep a mobile phone handy and put the emergency number on speed-dial




Have fire safety protection equipment on-site: extinguisher and blankets are a minimum
These workplace safety tips may seem obvious, but as a site foreman or woman, you are morally and legally bound to utilise them and do your best to create a site specific safety plan. Remember, frequent hazard assessments and risk assessments will make health occupational safety a standard, and Catchy Slogans will make safety a workplace culture. You can also check out my Sun Safety Tips page or an excellent page on Ladder Safety or return to kit home basics home page