Groundwork for Home Building Plans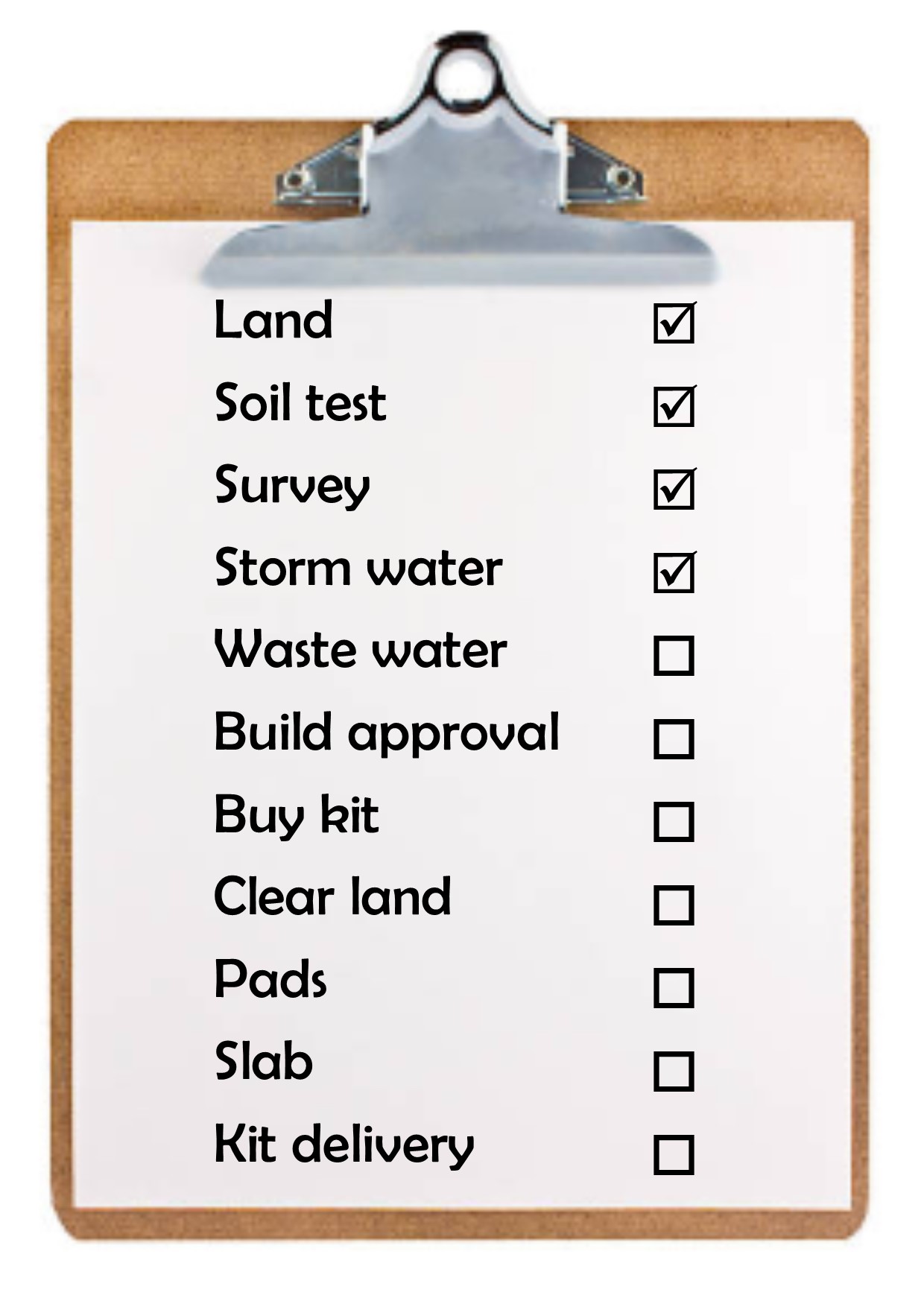 Your home building plans will require considerable groundwork, why? Because you are going to build it yourself. The concept of being an Owner Builder varies from overseer to hands on kit home builder. So where do we start?
Let's reduce the list of requirements into an operational plan, designed chronologically, ensuring due diligence is fully attended to, and all boxes are ticked. Kit homes are no different to regular homes, unless, as in this case, you are the subcontractor, where you do the groundwork. And there is lots of red tape...so let's get to it. 
The steps to building a house can be divided into 3 phases
Home building plans: Phase one
Choose a kit home package.
Make your choice from the hundreds of kit homes available on the net. See my detailed 3 step process to help choose your own kit home to build or go to the Home Building Kits page to see descriptions of kit types.  
I have reviewed dozens of kit floor plans on this site.
Four and three bedroom designs here
One bedroom (Granny flat/Cabin designs) here
Choose components and PC (prime cost) items.
Roof colors and cladding profiles are the basic components to choose. If you specify PC items, all need to be carefully chosen before the final quote can be offered. For more component info check out our kit inclusions page. To get a grip of how kits are priced go to our Kit Home Prices page or the Real Costs of Owner Building page.
Sign a contract and pay a deposit.
Best to get a solicitor to check it out. The deposit pays for the agreement to engage and preparation of your house floor plans. 
Complete an Owner Builder course.
A very simple process that is more about site safety, than building acumen. Courses are usually available at your local community college or local building authority. There is also many online owner builder courses so google it or watch for ads appearing on this site. My ebook Owner Builder Mistakes is a great read as well.

Soil test.
Engage a geo-technical consultant to provide a soil test and report to advise foundation specifications and add to the local council list of submissions.
Site boundary, plan and gradient.
Engage a surveyor to perform these vital measurements and supply a written report. They advise the draftsman and add to the local council list of submissions. here's my Land Survey page.

You may have to engage land clearing services. Here's my page on land clearing.

Send soil test results and surveyors plan to your Kit Home Builder.
This will initiate the drawing of your plans. Here is the plans page for my steel frame house.

Home building plans: Phase Two
Waste water management and design plan.
Engage a building consultant to design a management plan including the drainage products to be utilised. The consultant will require a copy of the surveyors gradient plan.
Draw storm-water management plan.
Depending on your local authority requirements, draw a map of how you plan to move storm-water around and off your property. This may include down-pipe discharge to storm-water drains or to a water tank, and water movement from retaining walls. Make sure your neighbour is not affected by water from your property.
Draw and describe fire management plan.
All home building plans require a fire management installation plan, this includes the provision of 'hard-wired' smoke and or heat detectors, extinguishers, fire blankets and signage if specified. In a bushfire prone area you may have to add steel fly screens, thicker window glass, steel gutter guard, steel frames, steel roof, steel or concrete tank etc. Here are more details on my fire safety protection plans.
Construction insurances.
Consult your insurance salesman on specific building construction insurances including site security, storm damage, fire and public liability. Make sure you sight a tradesman's insurances when they come onto your site. It gets complicated if you choose to employ labour for your venture as work-cover insurances are expensive. Make very sure you are covered for your situation.
Draw and describe a termite prevention plan.
Depending on local termite prevention laws, a concrete slab will require under-slab liquid control and well as a steel mesh termite prevention barriers. Pier floor systems will require ant caps and pest resistant bearers and joists to prevent termite intrusion. Here's my Termite page

Receive finished home building plans and specifications from Kit Home Builder. Start getting excited now!!!
Home building plans: Phase Three

Send Development Application Submission Pack to your local council authority. This will include:
Co

mplete

home building plans

from the Kit Builder, which will include Truss Certification, Glazing Suppliers Certification and Energy Rating Certificate.

Waste water management, storm-

water, termite, fire and surveyors plans, soil test results and owner builder certificate.
Receive development plan approval from your council authority (a number of weeks later).
Send your Kit Home supplier a copy of the Council Approval to Build, and they will start building your kit. This may take up to 12 weeks. At this stage you will be required to make a second payment to the Kit Home supplier, including a delivery fee. Remember they are pre-building your home so be patient and spend time initiating your development plan, preparing your site (footings or slab, fences, water-tanks, access, rubbish removal, driveways and retaining walls) and assembling your tools and equipment.
With the delivery are comprehensive home building plans and a step by step kit home building manual. Study it hard and keep it clean and dry. It will be your bible for the duration of the your venture in building a house.
Check you have the tools, or access to them, that you need for this project and here are some tips for Dealing with Tradesmen.
Submit a Question, Problem or Comment about the Groundwork Stage
Submitted Questions
Click below to see answered questions and comments on Kit Building Groundwork...