Backyard investment opens up options galore

(https://thewest.com.au)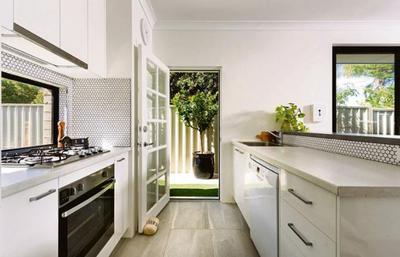 Jeanie and Seth moved into their Victoria Park home in 2013 with their daughter and toy poodle.
The couple were looking for an investment opportunity and quickly recognised the answer lay in their own backyard. The garden was big enough to accommodate a good-sized granny flat that could be rented out.
With plans to renovate their home, Jeanie and Seth realised having a second home in the back garden would enable them to move out rent-free while they got busy with their own home improvement projects.
Having a plan of action in place is one thing, but employing the right builder to take on the dream is another. After much research they decided to go for Dale Alcock Home Improvement.
"We contacted a few other companies, but none of them had a brick and tile option at the right price with a design we liked," Seth said.
"Also, we liked the fact Dale Alcock Home Improvement was a well-established company with a good reputation for service standards."

With a budget of about $145,000, the couple chose the Dunsborough, a 70sqm design about the same size as the main home on their 495sqm block. The home features three bedrooms, an open-plan kitchen and living area and sliding doors to an outdoor entertaining are.
Jeanie and Seth added an alfresco off the living area and a French door to the garden from the kitchen.
Construction took about 14 weeks, creating a comfortable, double-brick home filled with natural light.
"It was well worth the cost and doesn't feel like a granny flat – it feels more like a house," Seth said.
At the end of the job, Seth and Jeanie were very happy with the final result and felt choosing Dale Alcock Home Improvement had been the right choice for their renovation.
"We were impressed with the speed and the hard work of the tradespeople used. The service was top notch," Seth said. "They went out of their way to accommodate our alterations to the design."
From their whole renovation process, Jeanie and Seth learnt a number of key lessons in building granny flats, with Seth offering the following piece of advice to anyone thinking of doing the same thing.
"You need to think carefully about storage and you need to simplify so that you can manage in a smaller space," he said.
CONTACT Dale Alcock Home Improvement, 6555 7558, www.dalealcock.com.au.
Join in and write your own page! It's easy to do. How? Simply click here to return to News portal.