Yurt building kits

So what is a yurt? They are portable, felt-covered, wood lattice-framed structures used by nomads of Central Asia as far back as the 4th century BC. They are true to the original design and, in some cases, the original materials of yurt constructions of old. Most kits on the net are completely round, semi-portable tents, but some are permanent structures, octagonal in shape, and wood clad.
What is a yurt house
These are an enthusiasts dream: the ultimate tent. They have a natural strength, where the rafters push inward on the compression ring and outward on tension cables, which act in a similar way to a hoop on a barrel preventing the rafters from moving/spreading outward. The aerodynamic shape allows the wind to easily flow around it rather than pushing against flat walls.
The below pics are from sgbonline.com
Modern wood structured, octagonal home kits are superbly practical dwellings with excellent thermal and solar properties. The regular size is based on a wall length of 2.4m to give a total area of a bit over 28 sq metres. They are made up of 8 wall sections and 8 roof sections, topped with a skylight roof vent.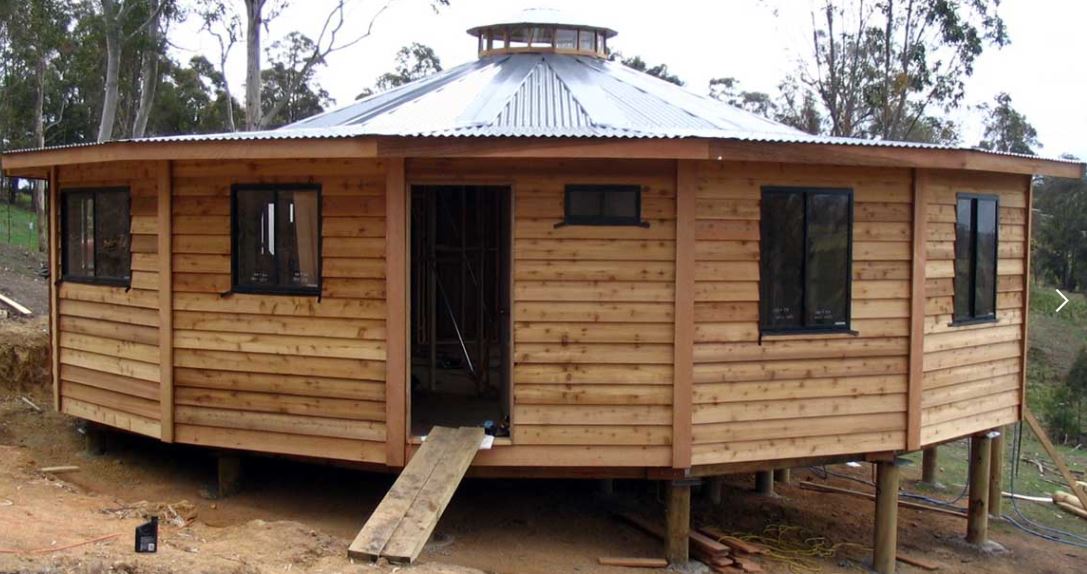 Gouldburn Yurt
Yurt floor plans
Yurt floor plan: shelterdesigns.net
Traditional yurt floor plans are open plan with outdoor cooking and toilets. Modern yurt plans have walled spaces for bathroom utilites, and in the case of larger wooden yurts, outer bedrooms and inner kitchens and living areas. 
A yurt house can be plumbed, heated, and conventionally wired. You can equip it with renewable technologies and mobile modular systems to integrate efficiency, flexibility and sustainability. Create any type of living space with bedrooms and living areas, any type of simple and modern kitchen, loft floors, bathrooms, and storage.
Today's modern yurt kit is a durable, high tech version of the traditional Mongolian yurt. Heavy duty, insulated, fire retardant, state of the art industrial membranes and fabrics, engineered timber rafters and framing to keep out all water hail, snow, and mildew.
They can also be assembled in one day! Larger kits can be built in less than a week.
Goulburn Yurtworks and Blue Mountain Yurts have some great kits for owner builders.
Go back to House floor plans

or go to my Small House plans page or to my Small Cabin Plans page or go to Kit Home Basics homepage