Flat Pack Kitchen Cabinets

Kitchen cabinets in flat-pack form are a great fit for the owner-builder of kit homes. In the kit plans a pre-designed kitchen floor plan is outlined, but the kitchen layout is yours to alter.
You may or may not know how to design a kitchen, but we all know what we want to do in this space, so get it right for your needs.
Flat packs are cut from 16mm moisture resistant board and are melamine coated. Some are also pest resistant. Doors are trimmed in PVC edging. All carcasses and doors are computer cut ensuring perfect sizes and fitting. They are also pre-drilled and countersunk.
Designing a kitchen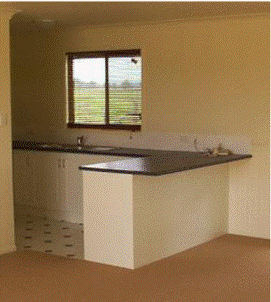 Decisions...

High oven or under bench
Storage space requirements
Bench space needs
Pantry size and design
Breakfast bar or high facade
Power-point placement and number

Splash-back: tile, glass, slate, stainless steel, granite
Kitchen layout: Galley, U shaped, L shaped, Island, Eat in
Cabinet colors, designs and handles
Bench-top material and shape: Roll top, square edge, beveled, wooden edged, slate, stone (granite), marble, stainless steel, solid plastic block, timber melamine, laminate, glass (beautiful), drop front, two pack paint or acrylic for doors, butchers block, rustic....
Tools
You will need a cordless drill with a clutch mechanism, a hammer, tape measure and level. You will also need work 'horses' to elevate a carcass to work on or even better, a solid trestle table.

Kit components
Base carcasses, corner carcass, drawer carcass, wall cabinets, pantries, broom cabinet, oven and microwave enclosures, range-hood cabinets and dishwasher enclosures.
Also supplied are cabinet doors and drawers, hinges, door knobs/handles, end/fascia panels, kick-boards, carcass legs, shelves, bench-tops, a variety of fasteners and screw head buttons. Next we get our flat-pack kitchen together.
There are many more pages to this kitchen series...hit page 2 to start building...
Page 2  Page 3  Page 4  Page 5  Page 6  Page 7
Here is my kitchen tile splashback page

Return to Kithomebasics Home page