Flat Pack Kitchen Cabinets

Kitchen cabinets in flat-pack form are a great fit for the owner-builder of kit homes. In the kit plans a pre-designed kitchen floor plan is outlined, but the kitchen layout is yours to alter.
You may or may not know how to design a kitchen, but we all know what we want to do in this space, so get it right for your needs.
Flat packs are cut from 16mm moisture resistant board and are melamine coated. Some are also pest resistant. Doors are trimmed in PVC edging. All carcasses and doors are computer cut ensuring perfect sizes and fitting. They are also pre-drilled and countersunk.
Plans for kitchen cabinets
Small kitchen design
Planning a small kitchen design for your kit home can be a satisfying experience with modern kitchen cabinet ideas, features and utilities as well as interesting kitchen storage ideas. Thought needs to go into the corners of the kitchen where it is easy to place an awkward appliance like a dishwasher. End spaces can be wasted due to corners and non usable areas. Make sure there is enough counter space, don't plonk a big kitchen island in the middle, and keep the colours simple.
Spend a lot of time finding the new and interesting kitchen ideas like carousal and roll out storage cages, slide out waste bins, corner drawers, large drawers, stone benchtops, space-saving sinks (do you really need a double sink), slide out pantries, pull out benches, wall storage racks and integrated exhaust hoods. Use hooks and hangers for large pans and pots, racks or short 'ladder' setups for work as well. Magnetic utensil strips along the wall reduce draw clutter and keep knives safe. Open shelving: kitchen cabinets without doors,can add space by not needing you move backwards to access them. 
Look for less obtrusive designs for example draw dishwashers, walk in food pantries and raised hinge oven doors. Drainers that fit into second sinks are also great space savers. Also consider replacing all regular kitchen storage cabinets with drawer cabinets. Overhead cabinets are a must for small kitchen designs but keep them shallow and accessible.

Kitchen cabinets: decisions
High oven or under bench
Storage space requirements
Bench space needs
Pantry size and design: butler, walk in
Breakfast bar, privacy facade
Draws or cupboards
Elements: pull out bins, swing out shelving, slide out pantrys 
Facade above the high cupboards to the ceiling
Power-point placement and number

Splash-back: tile, glass, slate, stainless steel, granite
Kitchen layout: Galley, U shaped, L shaped, Wrap around, Island, Eat in
Cabinet colors, designs and handles
Bench-top material and shape: Roll top, square edge, beveled, wooden edged, slate, stone (granite), marble, stainless steel, solid plastic block, timber melamine, laminate, glass (beautiful), drop front, two pack paint or acrylic for doors, butchers block, rustic....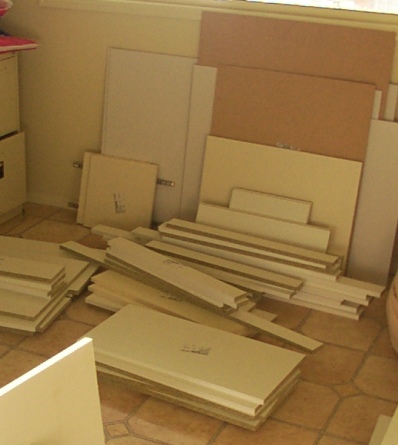 Kitchen cabinet flat pack components
Base carcasses, corner carcass, drawer carcass, wall cabinets, pantries, broom cabinet, oven and microwave enclosures, range-hood cabinets and dishwasher enclosures.

Also supplied are cabinet doors and drawers, hinges, door knobs/handles, end/fascia panels, kick-boards, carcass legs, shelves, bench-tops, a variety of fasteners and screw head buttons. 
Building kitchen cabinets from a flat pack is generally straight forward for the handy man or woman. The arrival of a hundred bits of kitchen, literally flat packed, is daunting, but once the unpacking starts and the plan is absorbed, the fun begins.
Begin by creating a space to stack the components. The space needs to be clean, flat and accessible. Unpack components and stack onto a soft material like old blankets. It is best to separate each carcass group of components, which is easy as they are clearly marked. Stand or lie large pieces like the kitchen bench top in such a way as to reduce bending or warping.

Kitchen renovation before and after
Tools
You will need a cordless drill with a clutch mechanism, a hammer, tape measure and level. You will also need work 'horses' to elevate a carcass to work on or even better, a solid trestle table.
Full details of flatpack installation here..

Return to Kithomebasics Home page