Barn Style Homes

If you are considering barn style homes as an alternative, you may have been captivated by the distinctive features like the cathedral ceilings with huge exposed posts and beams, authentic rough-hewn wood floors and historic barn house images.
It is possible to create a home from an existing barn, so lets explore these options in a little more detail.
There are many possibilities for the keen renovator to create an extraordinary home by converting pre-built barns into barn houses. Existing barns will be purpose built animal, equipment or produce shelters and can be decades or even centuries old. They will be in various states of repair and will require close inspection to determine the feasibility of the project.
Renovating an existing Barn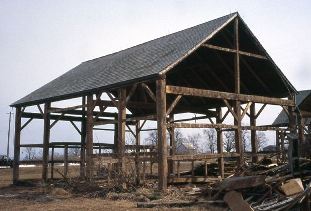 Barn home skeleton?
The most important inspection will be of the barn framing. Original posts will be in earth foundations need to have been treated with creosote or be specific pest resistant timbers. Huon pine, merbau, ironbark, kauri, turpentine, and many cypresses, such as coast redwood and western red cedar were often used. Sometimes the same wood is used in the rafters so these may be sound as well, but a check of connection systems is appropriate ie for rusting bolts, nails and plates. A bent rafter may not be a problem unless it is bowed vertically, in which case the roof would have a dip or bump. 
A digging expedition is often required to establish whether posts have rotted or been consumed by termites. Close inspection of wood joints can reveal water damage from leaking roofs. Often long beams (lintels) need inspection as they may have been used to support large weights for long periods and may have been weakened or even split. At the very least, converting a barn will require new roofing, walls and flooring.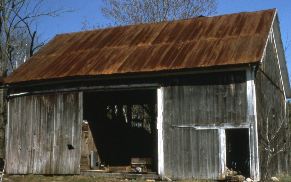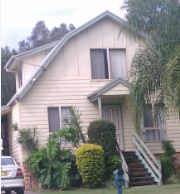 Interiors of old barns will have tack rooms, animal stables, hay lofts, feed rooms, enormous barn doors, a silo, milkhouse, and various workshop or machinery areas. Structures can also be made of clay, stone or brick, and have thatched, tile, iron or slate roofs.
Finding a barn to renovate will be determined by what part of the world you live, for instance, Britain and the US still have old farms being sold with Barns still standing. There are also specific barn house conversion companies who buy and sell barns, and the land they are on, in various stages of re-development.
Go to my Barn kits page .
Return to Kit Home Basics home page