Exterior Wall Cladding
Installation tips

When specifying exterior wall cladding for a kit home, the choices are extensive, in price, looks and ease of installation. If you build your own home kits, hardboard siding ranks high in the do-ability by the handy-person. Go ahead and learn how to lay a brick or block, but hardboard siding goes up in a flash and can be fully insulated as well.
Installing vapor lock on the frames before installing weatherboards, and insulation between them will give high level insulation properties on a par with brickwork. So, lets have a look at what external wall cladding is on offer to for home building kits.
Types of exterior wall cladding


Engineered wood siding
Composite wood, is made with wood products and other materials. Oriented strand board (OSB), hardboard, and veneered plywood are examples of engineered wood products. Engineered wood usually comes in panels that are easy and inexpensive to install. The panels may be moulded to create the look of traditional clapboards. Because the textured grain is uniform, engineered wood does not look exactly like real wood. Still, the appearance is more natural than vinyl or aluminum.
Wood siding
There are many synthetic wood-look products, but solid wood (usually cedar, pine, spruce, redwood, cypress, or Douglas fir) remain favorite choices for finer homes. With periodic care, wood siding will outlast vinyl and other pretenders. As with cedar shingle siding, hardboard siding can be stained rather than painted. Many wood frame houses built centuries ago still look beautiful today, however care must be taken to protect them from termites and rot. In Australia timber weatherboards can be supplied in Red Ironbark, Grey Ironbark, Yellow Stringybark, Silvertop Ash, Blackbutt, Spotted Gum, White Cypress and a favorite, Tasmanian Oak.
Fibrous cement siding
Can have the appearance of wood, stucco, or masonry. This durable, natural-looking material in Australia is called by the brand names HardiPlank® and HardiPanel®. If you want the look of authentic wood with a bit less maintenance, cement fiber is a good option. Fibrous cement siding is fireproof, termite-proof, and may have a warranty up to fifty years. Fibrous cement sheeting products are manufactured in Australia by CSR, BGC and James Hardie, in the United States by CertainTeed Corporation. In Europe, these products are manufactured and marketed by Eternit.
Blueboard sheets
These are thick (7mm) fibrous cement sheets up to 3 metres in length and 1.2 metres wide. Stood upright and fastened to the frame they are meant to give a monolithic style after rendering and painting. They have a recessed edge rather like interior gyprock to enable jointing and can be score and snapped like all fibrous cement. See how I installed blueboard cladding on my kit home here.

Masonry sidings
Varied: brick, stone, stucco and can accommodate a variety of styles from formal to rustic. Though masonry can be painted or tinted to match many color palettes, it is most suited to neutral earth tones. Masonry has excellent durability (over 100 years), and minimal maintenance is required. The primary drawback to masonry siding is cost.


Metal siding
Available in a variety of metals, styles, and colors. It is most often associated with modern, industrial, and retro buildings. Utilitarian buildings often use corrugated galvanized steel sheet siding or cladding, which often has a coloured vinyl finish. Corrugated metal siding is also common where a more durable finish is required.
Insulated siding
Composite building material introduced in the 1990s. It is home siding that includes rigid foam insulation, fused behind the exterior surface of the wall, for the purpose of reducing energy consumption, increasing the insulation value of the wall system and improving the stability and appearance of the siding.
Plastic or Vinyl siding
An engineered product, manufactured primarily from polyvinyl chloride, or PVC, resin, giving vinyl siding its name. It is usually produced in units twice as high as clapboard. Plastic imitations of wood shingle and wood shakes also exist. Vinyl or plastic siding materials have grown in popularity due to the generally low maintenance and low cost appeal it offers.
How to install external wall cladding

All exterior wall cladding should have some form of vapor lock sarking underneath to keep moisture off the "frames". Create a spacing rod to set the correct spacings of hardboards as your nail them up the wall. The spaces will be the width of the board minus the overlap. Start by fixing a packing strip to raise the base edge of the first board. Add pre-sealed 75 x 35mm timber stops to building corners to butt the cladding up to.
Attach blocks along the base exactly level where you wish to start to temporarily sit the board on. Nail the board through the packing strip and check it is level before completing the nailing. Use the spacing rod to mark where the base of the second board should be. Before butting timber or compresses wood boards make sure the butt ends are sealed or painted. Siding can be cut and butted to frame studs or butt joiners can be used to save off-cutting.
Exterior wall cladding installation tips

Timber wall cladding, exposed to the weather, will be affected by sunlight, and will absorb moisture during wet weather and give off moisture in the dry. Uncoated timber remaining damp for extended periods may also develop dark discolouration due to surface mould. If you cannot fix it to the house immediately after delivery, take steps to seal or paint all sides ends and edges with the intended natural or stain finish. More siding info here...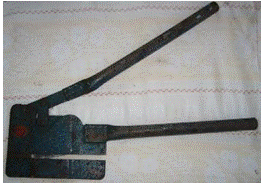 Fibro cutter
Fibrous cement siding installation tips

Store flat and keep dry prior to installation.
Installing exterior wall cladding wet or saturated may result in shrinkage at butt-joints.

As cladding can be long and non-rigid, be wary of bending and breakage-carry planks on edge.

Fibrous cement wall siding can be cut by scoring and snapping with a fibro cutter or with a mini circular saw with a masonry (carbide tipped) blade.

If possible use a dust collector on the saw and cut in well ventilated areas.
Patching:dents, chips and cracks can be filled with a cementous patching compound.

Fibrous cement siding must be painted and usually is supplied primed.
Nailing tips
Drive fasteners perpendicular to external wall siding.
Fastener heads should fit snug against siding (no air space).
Do not over-drive nail heads or drive nails at an angle into siding materials .

If nail is countersunk, caulk nail hole and add another nail.

If using a nail gun, test on an off cut to set correct depth, and always pre-bore holes for butt nails.

Fasteners must be corrosion resistant, galvanized or stainless steel.
Here is an application guide from a supplier of exterior wall cladding... 
Blueboard cladding installation here...
Go to my vapor lock house wrap page or go to kithomebasics home page