DIY Shed Plans
Putting together these DIY Shed Plans for my Post and Beam Wooden Shed, I realised how much fun it was to draw up a shed plan that would be converted into a functional and good looking building. My intent was to build a tough shed for myself, but I have decided to make sure it can be adapted for other uses. 
This building could be an outside office, art studio, or even a place to do Bodywork such as Massage or Shiatsu: see my 60 Home Base Businesses page for more ideas. Adding wide eaves, high windows, double doors and insulation increases the amenity and ambiance of the post and beam plans.
Firstly we need to look at some lean to shed plans I drew to get an idea of how to build a wooden framed building. In this shed plan I have opted for a Raised Floor rather than concrete due to the lake of access to the property for a concrete truck. The plan shows a basic raised floor on three sleepers with 7 floor joists at 45cm (18") intervals. See my Raised Floor building page for more detailed info on this.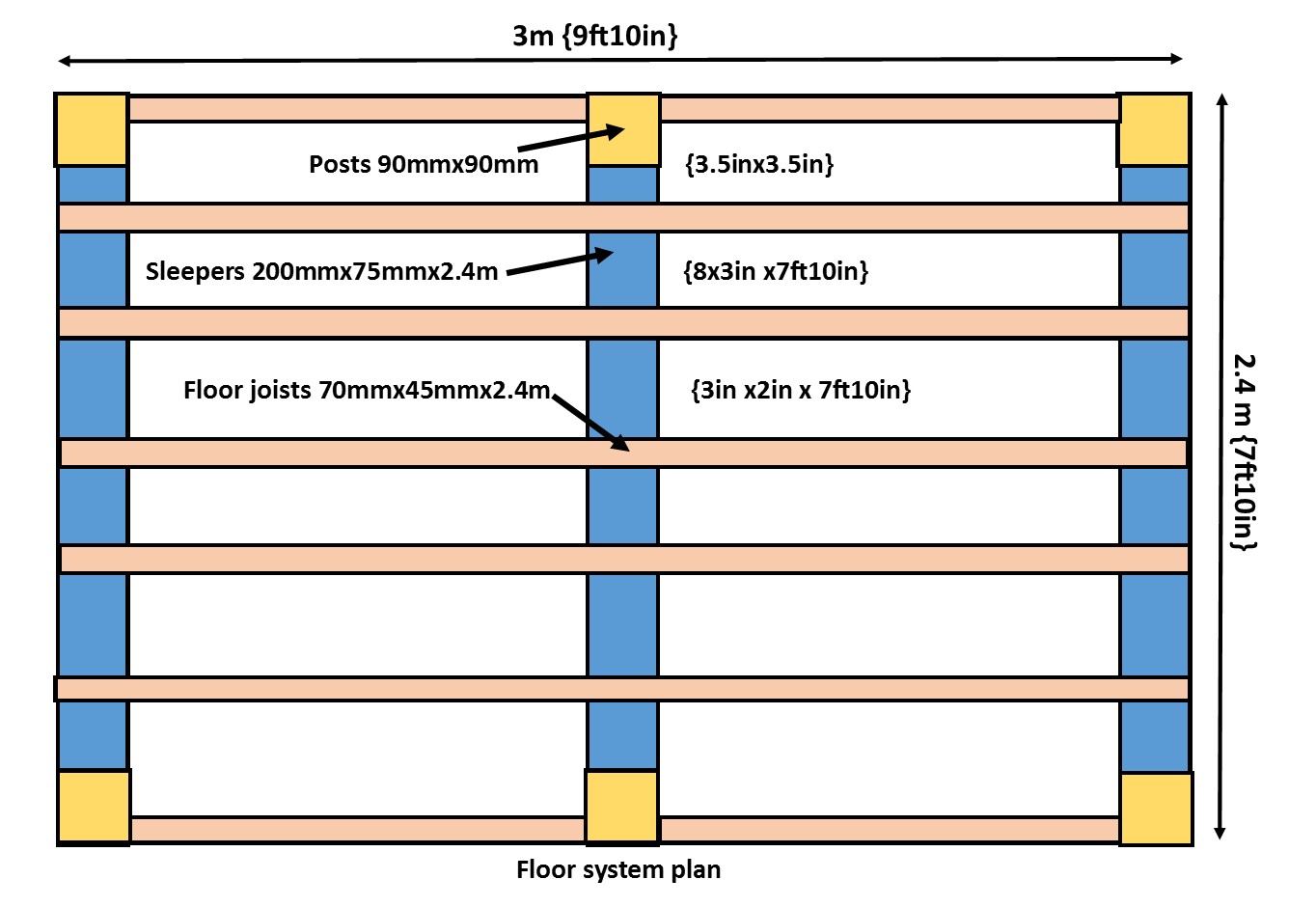 Next graphic in these diy plans is a front elevation of the structure showing the sleeper bearers, 4 main posts, side rails, top plates and ceiling joists. I have only shown the rear brace in this graphic. The building will have side and roof bracing in the end. All posts and rails are morticed in for true post and beam effect, as well as increased strength of course.

DIY Shed Plans and Materials list: framing construction
Legend
Conversion: 1 metre = 3.3ft, 90mm = 3.5ins
H4: CCA Pest Treated for inground use
H3: CCA Pest Treated for above ground outside use

Galvanised stirrup bearer supports 6x
Concrete mix for 6 holes
Bearers: 2.4m x 200mm x 75mm H4 3x (sleepers) 
Floor joists: 2.4m x 75mm x 50mm H3 7x
Red tongue CCA tongue and groove particle board flooring

Top plates: 4.2m x 140 x 35 H3 2x
Side and back rails: 3.6m x 90mm x 50mm H3 x 4
Uprights: 3.0m x 90mm x 50mm H3 4x
Ceiling joists: 3.6m x 90mm x 50mm H3 6x
Galvanised Speed brace (slotted strap)

Insulation: Sisalation (foil backed fibreglass)
A selection of Galvenised bolts/nuts/large washers/multi-grip wood connectors, clouts, bugle batton screws and roofing tech screws

So that wraps up the DIY Shed Plans part of my Post and Beam wooden shed series. The materials list changed slightly for me and will for you too depending on availability and individual taste.
Go back to DIY Projects or go to Kithomebasics home page.
There are 7 other pages in this backyard shed series. You are presently on page 2.