DIY Roofing systems
for kit homes

For DIY roofing, there is no easier set up than the systems kit home suppliers deliver. Metal roof installation systems can be daunting for the owner builder, but when the roofing materials: corrugated iron and house gutters, barges, battens, and ridge capping arrives precut, along with house insulation and roofing screws and installation guide, your new roof will go on with ease. So working out how to roof a house can be easier than you think.
On previous pages we erected the trusses and braced them to the frames In the next few pages we will show how easy diy roofing installation is on your kit home.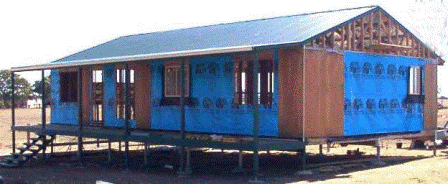 Included roofing materials in your diy roofing kit:

House gutters & downpipes

Steel roof battens

Fibreglass house insulation (sisalation)

Corrugated iron

Ridge capping

Barge capping
Roofing screws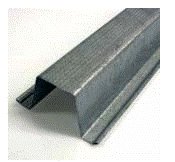 Steel batten
Types of corrugated roofing
Corrugated galvanized iron describes the original product that was wrought iron plate coated with zinc and then roll formed into corrugated sheets. This product is still used in some areas.
Galvanized steel. Still manufactured but mostly used for heritage products.
Zinc 55% / aluminum 43% / silicon 1.6% coated steel. Sold under various trade names. i.e. "Zincalume". Often left in the zinc finish, but more widely with factory coated colors (colorbond).
Metal tile sheets made of high quality zinc coated roofing steel and polyester coated on top
Stainless steel. Available for harsh conditions, rollformed and fixed similar to corrugated steel profiles.
Aluminum - One of the longest lasting metals, but somewhat expensive. Aluminum roofs are lightweight, corrosion-resistant, and have high reflectivity, which may help increase a building's energy efficiency.
Copper - Usually used for flashing or very small sections like covered entryways.
Stone coated steel - Panels made from zinc/aluminum coated steel with acrylic chip.
IBR or Inverted Box Rib is a low-cost corrugated square-fluted iron roofing used mainly in the South African market.
Installing metal roof battens
Metal battens are relatively easy to install, starting with the truss apex battens. Hit some guide nails into the trusses to sit the battens on so they end up 100mm (4") from the truss apex. Using a good 18-24 volt cordless drill, attach the batten to the trusses with roofing screws. Now install the end batten at the overhang of the trusses, 50mm (2") from the ends. Install the inside battens at maximum 900mm (36") centres as evenly as possible up the truss top chord.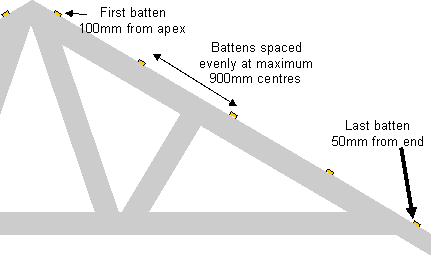 For the next step in my 'how to roof a house' pages go to Installing House Gutters . Or go to the Roofing Insulation page . Or move ahead to the Metal Roof Installation page. You can also go back from DIY roofing systems to kithomebasics home page