Balgownie builder gives granny flats a makeover
by Michael Bleby
(http://www.illawarramercury.com.au)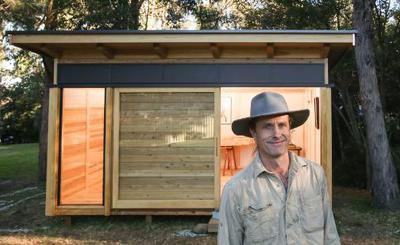 Balgownie builder gives granny flats a Japanese makeover as land costs soar, kids stay at home.

House prices are at record highs, renovations cost a fortune and kids can't afford to leave home. It's little wonder people are turning to granny flats. But that doesn't mean they have to be ugly.

From a workshop in Balgownie, builder John Totenhofer has an alternative to the plasterboard box that - like a temporary classroom - is craned over back fences to sit on a concrete slab in a growing number of Australian backyards.

It doesn't just look different from the standard extra living shed - it works differently, too. Totenhofer is building kit-like Japanese-style spaces that don't need a concrete slab, go up without nails - the pre-cut pieces of joinery interlock together - and can be taken apart and rebuilt easily with a new panelling or fittings such as windows as needed.

"You can pull the house apart," Totenhofer says.

"All the sections of timber are big enough and there are no nails. You can then cut the foundations off with grinder. There's enough integrity in the timber at the beginning. No concrete. Just like the temples and shrines it has multigenerational use."

"They all start around $40,000 to $45,000 for a 20 square metre one," he says. "I can get one, if you choose more simple products, for about $48,000."

And it is a growing market. In NSW, where the Affordable Rental Housing – State Environmental Planning Policy that allows property owners to rent their secondary dwellings came into place in 2009, demand for tax depreciation schedules - used to calculate tax deductions - for granny flats rose 24 per cent in the year to June 2017, says quantity surveyor and tax consultancy BMT Tax Depreciation.
Join in and write your own page! It's easy to do. How? Simply click here to return to News portal.