Log cabin kits let you build your dream mountain retreat
by MEGAN BARBER
(www.curbed.com)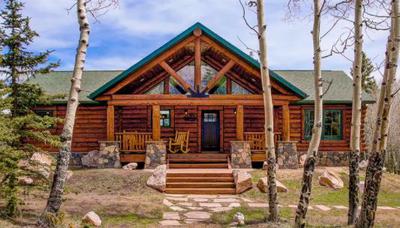 Whether you've always wanted a cabin in the woods or if you pine after the ski chalets in glossy magazines, there's no fighting the allure of the log cabin. Unfortunately, mountain real estate is rarely cheap, and properties in ritzy ski towns like Aspen, Jackson Hole, or Pack City can easily run into the millions.

For some, the answer may lie in plopping a tiny home, modern prefab, or even a shipping container dwelling on a plot of land. But so many of these unconventional structures can be too small or unsuitable for cold climates, and frankly all too few of them fit the hygge-worthy idea of cozy evenings by the fire.

Another option is a log cabin kit. Unlike prefab, log cabin kits aren't preassembled in a factory somewhere; the log home is constructed at the client's site. In other ways kitsare similar to prefab, especially because at companies like Wisconsin-based Golden Eagle Log & Timber Homes, all of the logs and material are precut at the company's facility and then shipped by truck to your location.

Like Ikea on a bigger scale, when Golden Eagle delivers your log cabin, they provide an installation manual for the homeowner or builder who will be erecting the home. And unlike conventional stick frames that waste a lot of material—and require more time to construct—log cabin kits use much less material since the exterior walls are solid wood.

Although about 95 percent of Golden Eagle's customers hire a builder for their homes, any reasonably handy person with time on their hands could build a log cabin themselves. The logs go through a kiln drying process to remove water before they are shipped. This means that two people can handle the longest wall log in even the largest of cabins.

There are an array of customizable kit plans, ranging from a small 500-square-foot studio to million-dollar 6,000-square-foot retreats. Each kit, however, comes with everything you need for the build from the sill plate to the roof: logs, cabinets, sinks, flooring, fireplaces, windows, shingles, the list goes on.

Kit prices are downright reasonable compared to top-dollar mountain real estate. The Ski Home Prow plan starts at $97,000 and costs around $164,500 for the largest footprint (three bedrooms, four bathrooms) and finished lower level. Of course you need to factor in land costs and building costs—which will increase the cost significantly—and there's no question that land can be the most expensive part of real estate. But for people looking for a semi-customizable log home that will hold up to the elements and fit the mountain aesthetic, a log cabin kit could fit the bill.