Prefab cabin by Snøhetta is designed to go anywhere
by JENNY XIE
(www.curbed.com)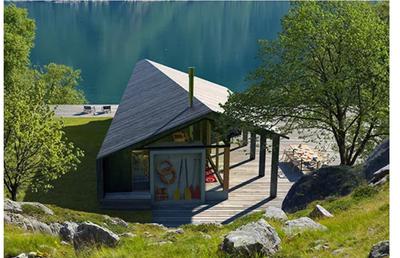 The latest news in prefab land comes from Snøhetta, the international firm behind projects as major as the Times Square revamp and as whimsical as a treehouse hotel. This time, the firm has designed a ready-made cabin for Rindalshytter, a Norwegian company specializing in vacation homes.

Named "gapahuk," after the Norwegian term for a simple wooden structure, this cabin design is intended for all sorts of settings, from the mountains to the seaside. The roughly 970-square-foot dwelling allows three bedrooms and a bathroom, while prioritizing a large open living and kitchen area with view-framing glass walls and sheltered patios on the exterior.

The folded angled roof is at once an aesthetic and practical choice. The sculptural shape helps shield the home from all kinds of weather conditions, while providing a viable surface for placing solar panels and going off the grid.


Join in and write your own page! It's easy to do. How? Simply click here to return to News portal.