Solar-powered prefab homes for struggling millennials pop up in a single day
by Lacy Cooke
(http://inhabitat.com)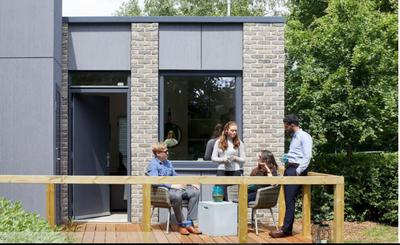 An increasing number of people in the United Kingdom make too much money to qualify for social housing, but struggle to afford high rent prices. Prefabricated homes manufactured at the Legal & General Leeds factory could meet housing needs for that group (largely millennials) – and the first houses from the factory recently popped up in the London area. Called LaunchPod, the 280-square-foot homes were ordered by housing association RHP, and were designed by architecture firm Wimshurst Pelleriti. They'll be available to rent for less than the average cost of a nearby one-bedroom apartment.

Legal & General is an insurance company which is now churning homes out of a new factory – at a rate of 3,500 flats and houses a year. Their modular homes arrive at a location nearly finished and can be set up in one day. The homes are energy efficient, made out of cross laminated timber (CLT), and can be built to Passivhaus standards. A kitchen, curtains, fitted carpet, bathroom, and even furniture can be part of the home arriving on site. Legal & General says they can manufacture homes from detached houses to apartments 20 stories high.

RHP nabbed the first houses out of the factory for a site in Richmond, a town southwest of London. A LaunchPod makes creative use of space to sneak in features that would more commonly be found in a larger flat, according to Wimshurst Pelleriti. But they said RHP didn't want to resort to space-saving gimmicks like fold-down beds. Instead, features like raised mezzanine beds hide storage beneath, and the height of the homes, which are taller than normal, make them feel spacious.

A LaunchPod is equipped with a luxury kitchen and lounge, bedroom, bathroom, and veranda. They have underfloor heating and are solar-powered, so residents will only pay around $13 a year in electricity.

Neither Legal & General nor RHP would say how much the units cost, according to The Guardian. But RHP did say the price is around 15 percent less than the £2,600 to £3,000 per square meter cost common to conventional homes in the area, suggesting a LaunchPod could cost around £60,000 to £70,000, or around $78,155 to $91,182. But these particular modular homes will be rented, and as opposed to the typical rent of a one-bedroom flat in the area, which is a little over $1,300, the LaunchPods will be rented for between $782 and $912 a month.