These Prefabricated 'Hobbit Homes' Are The Cutest Way To Have A Green Roof
by AIMEE LUTKIN
(greenmatters.com)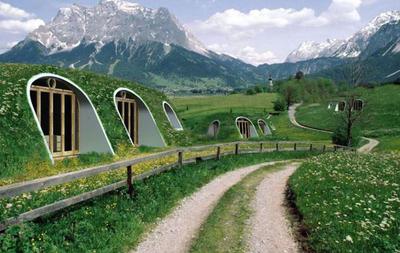 There's a lot to take away from The Hobbit, but one thought many people had was, "I wish I lived in Bilbo's fancy house." A company called Green Magic Homes has created a line of prefabricated homes with green homes that are about as close as you can get to living in the Shire, and they incorporate sustainable living into their homey, hobbit-y designs.

Digital Trends reports that the houses aren't necessarily intended for cosplay. They're designed to blend into the landscapes, turning a meadow into a series of rolling hills. The shell is made from Fiber Reinforced Polymer (FRP), and can be assembled by three people in approximately three days, barring orc attacks, for the smallest units. All components from screws to sealants arrive in either a 20 or 40 foot container.

The FRP is waterproof and designed to hold up 7.8 inches of soil and plants. Those plants can be altered according to environment or need. Some people make them into decorative gardens, some blend them into the landscape.

The interiors are also up the owner's discretion, and are recommended as a residence, and addition, carport, gym, office, or perhaps just your tiny home away from home to wear a wizard hat in.

The houses come in a variety of shapes and sizes, if you don't want a traditional rounded mound, and bigger homes cost less by the foot than smaller ones. If you're going to go Shire, go big!