Bangalow kit home floor plan review:
Imagine kit homes
The Bangalow two bedroom small house kit home design is offered by Imagine kit homes and features a cute tri-roof and clerestory windows around the living area. A front deck leads through large sliders into an open plan living and kitchen area. Bedroom one has a robe separator and small ensuite. Bedroom two connects to a 2 way bathroom, laundry and linen store precinct.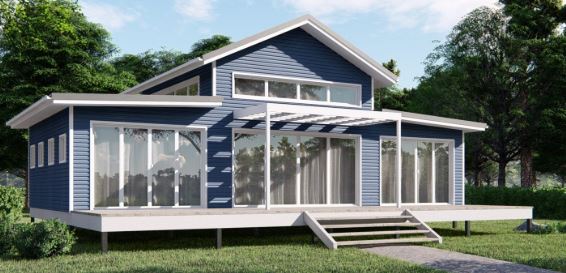 Bangalow graphic: Imagine kit homes
At 75sqm, this 12.8 x 8.6m 2 bedroom full kit is priced at $50,350.  This is one of the nicest small home designs I've come across.
Imagine kit homes site is here.
More 2 bedroom kit reviews here.