Building Kitchen Cabinets from flat packs

Building kitchen cabinets from a flat pack is generally straight forward for the handy man or woman. The arrival of a hundred bits of kitchen, literally flat packed, is daunting, but once the unpacking starts and the plan is absorbed, the fun begins.
Begin by creating a space to stack the components. The space needs to be clean, flat and accessible. Unpack components and stack onto a soft material like old blankets. It is best to separate each carcass group of components, which is easy as they are clearly marked. Stand or lie large pieces like the kitchen bench top in such a way as to reduce bending or warping.
My kitchen cabinet layout was not difficult to plan as the 'L' shaped space had few impediments and plenty of scope for good kitchen balance. I had 7 carcasses to build and connect as well as plumbing, electrics, kitchen countertop, doors, drawers and kick boards.
A good plan was essential to make sure my electrical and plumbing rough-in was complete before I started. I put together a number of carcasses so in the end a lot of unfinished kitchen cabinets littered the area, but then the jigsaw could be assembled.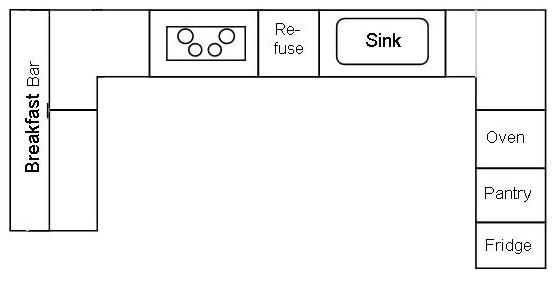 I started with the corner kitchen cabinet carcass (a lot of C's in that sentence). For detailed carcass construction go to my Installing Kitchen Cabinets page . At this stage it was important to line it up as square as the house will allow. Using very long straight edges, laser leveling devices or string lines will assist here. That is, you may have to compromise, shave off an edge, or check-in the carcass into the wall to allow it to point in the direction you wish.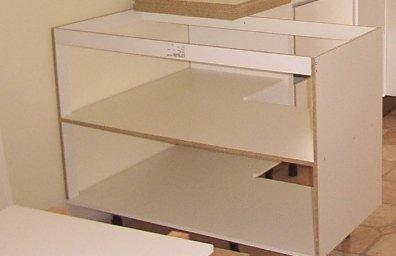 You can go to the next phase at Installing kitchen cabinets page. Or return to  main Kitchen Cabinets page or Go back to Kit Home Basics home page