Drywall finishing techniques
for kit home owner builders

This drywall finishing techniques page will describe installing drywall corner beads, drywall taping tips and how to finish drywall. Hopefully you have read my drywall basics page and my how to install drywall page as this is the final phase of the interior sheeting guide.
Installing drywall corner bead
Special metal or plastic corner strips are used to finish the outside corners of drywall sheeting.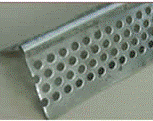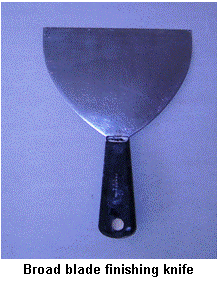 Measure the length of the outside corner to be covered. If possible,the corner bead should cover the entire length of the drywall on the outside corner. Cut the corner bead with tin snips and fit the bead to the sheeting corner, manoeuver it until you have a good 90-degree angle on the corner.
When you are sure the corner bead is sitting square and vertical, put two or three nails or screws through the corner bead and into the frame to hold it in place.

Have another look then continue to nail or screw every 20cm (8ins) along the entire length on both walls. You're now ready to apply joint compound to the corners.
Drywall taping tips
After the sheets are secured to the wall studs or ceiling joists, the seams between drywall sheets are concealed using joint tape and one or two layers of joint compound. This compound is also applied to any screw holes or defects. Use a 10cm (4in) joint finishing knife to apply a thin coat of joint compound.
Center the drywall tape over the joint, press it into the first layer of compound firmly, holding the knife at a 45-degree angle. This should squeeze some of the compound out through the tape. Leave this layer to air dry for 24 hours.
Drywall finishing techniques
Apply a fill coat over the taped compound, extending it a few inches beyond the edge of the tape. Feather the edges of the compound for a smooth finish. When the first layer is completely dry, sand it lightly and apply a second coat of compound mix, feathering the edges about 5cm (2ins) beyond the first coat. Let it dry thoroughly, then sand it lightly and apply a third coat using a very wide float. The total width of the final application should be about 30cm (12ins). When the final coat is dry, sand it lightly to a smooth finish.
Go to my drywall basics page for sheeting guides, compound descriptions and tool inventories. Don't forget to check my drywall installation page for ceiling and wallboard fixing tips. You can also go to kithomebasics homepage