Building a portable ground level deck
A ground level deck doesn't have foundations, so by design, can be mobile, even portable. With the changing of the seasons, a mobile setup can be moved to a sunny area in winter, or a shady spot in summer. It gives the user a chance to stay off the dirt, or prickles, or wet grass, in the exact place they want it...this week.

There are some properties/spaces that just can't be built on. That is, you just cant dig a foundation anywhere. You may strike a pipe, an underground drain, electricity lines or worse. Obviously a landlord won't let you build a proper deck either.

Perhaps, a ground level freestanding deck is the answer. This deck cost me $150 and took 4 hours to build. Add painting and wheels: $40, and for less than $200 the banana lounge has a home, anywhere in the yard.
Deck materials


2 x 90x90 x 2000 cca posts




1 x 90x45 x 2000 cca joist




22 x lineal metres ripple decking




60 x galvanised twist nails




12 x 30cm galvanised hex screws




6 metres galvanised strap




12 galvanised clout nails




Deck sealer




Couple of wheels if you want it mobile

Tools


Hammer

Drill

Saw

Square

Measure tape

Tin snips
Speed clamps



Deck design
This is a very simple plan that involves two posts and a joist in line,  crossing straps to brace it, and a wrap around skirt to contain the decking. Shown is the deck plan that I designed to be easy to construct for the DIY deck builder. Go to Page 2 to Build Your Own Deck: Ground level.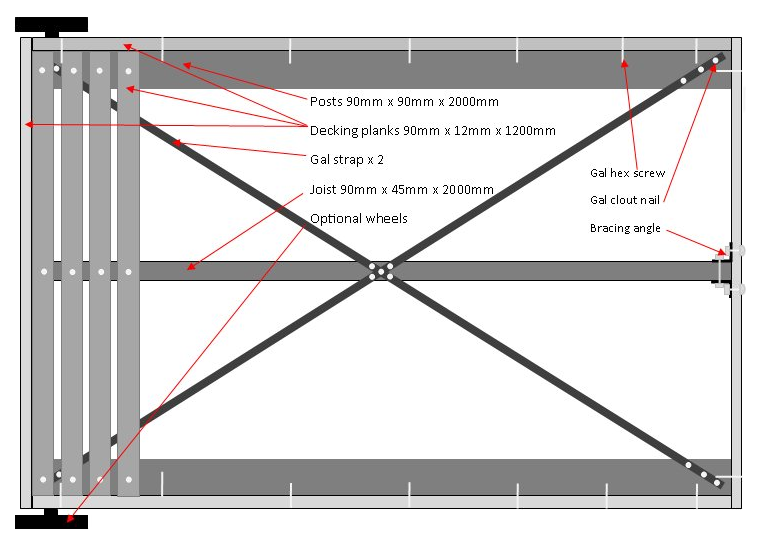 Things to consider
The deck is on the ground or close to it, so it needs to be pest resistant and water resistant.
To be mobile it needs two things: light wood (like pine), and wheels
A couple of coats of good sealer will help it last for many years
For interest, the deck could be 5 or 6 sided. But you'll need to be a maths whiz for that.

Go to Page Two: Build your own deck, for the next phase

Go back to DIY Projects or return to Kit Home Basics Homepage