Basic Home Building Kits

A variety of home building kits are offered in today's market. Many are suitable for self erection by the owner builder or in some cases, arrive pre-built. One of the fantastic things about kit home owner building is the creativity that can be injected into the venture, even though the kits are standard planned and pre-engineered.
Kit house designs are as varied as modern house designs: for instance, what about a log cabin or pole house in a street of brick and tile, and you always notice the 'A' frame house in the neighbourhood don't you? And yurts and geodesic domes are admired from afar. All are offered as 'build your own home kits' and all are achievable by the handyman/ woman with a bit of creative and autonomous spirit. So what types of home building kits are available?
Types of Home building kits
A-Frame house kits: An A-frame is an interior style of house with steeply-angled roofline that usually begin at or near the foundation line, and meet at the top in the shape of the letter A and a ceiling that is open to the top rafters. As a kit house design, the A-frame has traditional character and is easy to erect. They also usually have mezzanine level second floors.
Cottage kit homes:  A cottage is a modest dwelling, typically in a rural, or semi-rural location. In the United Kingdom, the term cottage tends to denote a rural, sometimes village located property, of traditional build. Some examples of cottages are Victorian Cottages, Stone Cottages, Timber framed cottages and Mock cottages. Cottage kits are easily assembled basic home building kits with old world charm and practicality.
Kit cabins/Log cabin kit homes: A log home, or log house is technically the same thing as a log cabin, a house typically made from logs that have not been milled into conventional lumber. The term log home is contemporary and preferred by most log home builders, while log cabin indicates a smaller, more rustic, log house, such as a hunting cabin in the woods. As a home building kit, this is perhaps the the most commonly built by an owner builder of all. Go to my Cabin page.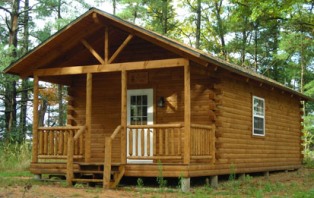 Barn houses/Barn home building kits: Originally based on Dutch barns, American style barn kits are increasing in popularity as alternative housing. Mostly steel framed, they are easily erected and blend well in village and rural regions. Also available are post and beam barn kits, a design structure which is simpler and more economical, allowing you a larger building for less cost, and Gambrel barns (pic on right). Go to my Barn kit page or my Barn style home page .
Modular kit homes: Also called prebuilt modular homes, are sectional buildings or houses that consist of multiple modules which are manufactured and pre-assesmbled in a remote facility and then delivered as modules to their intended site of use. The modules are assembled into a single residential building using a crane. Although not essentially home building kits, they are designed specifically for the owner builder with less building acumen or confidence (and wealth).
Panelized or Pre-fab kit homes: As opposed to Modular Homes, Panelized home building kits consist of smaller manufactured sections such as wall lengths consisting of inner drywall, windows, insulation, doorways and cladding. They are pre-manufactured and delivered to the site for manual erection. Considered one of the easiest kits to erect, panelized kit homes are increasingly popular home building kits with the owner builder.
Post and beam kits: Post and beam timber framing is the method of creating framed structures of heavy timber, jointed together by various means, but most commonly lap jointing, and then later pegged mortise and tenon joints. Post and beam framing uses fewer, larger wooden members, commonly timbers in the range of 15 to 30 cm (6" to 12").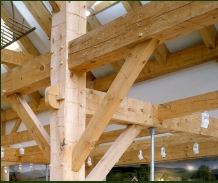 Steel frame home building kits: Steel frame usually refers to a building technique with a "skeleton frame" of vertical steel columns and horizontal I-beams, constructed in a rectangular grid to support the floors, roof and walls of a building which are all attached to the frame. Most kit home providers have a steel frame alternative these days.
Steel frame home building kits are a great alternative to 'stick built' homes and offer many advantages, not least pest resistance and 'true square' frames. Go to my Steel frame kit page for more info.

Geodesic Dome kit: A geodesic dome is a spherical or partial-spherical shell structure or lattice shell based on a network of great circles (geodesics) lying on the surface of a sphere. This structure is comprised of a complex network of triangles that form a roughly spherical surface. The home designs have very strong and straight forward construction methods. 
While the shape and construction initially makes them very strong, they are also easily adaptable for cyclonic conditions. There are also Dome Houses from Japan which are igloo-shaped structures built from snap-together wall sections made of 100% expanded polystyrene foam (styrofoam). 

Yurt home kits: Traditional yurts consist of a circular wooden  frame carrying a felt cover. Modern yurts are made using hi-tech materials. They are highly engineered and built for extreme weather conditions and erecting one can take days and they are not intended to be moved often. They are also provided as wooden and steel kits with modern cladding. Go to my Yurt page for more info.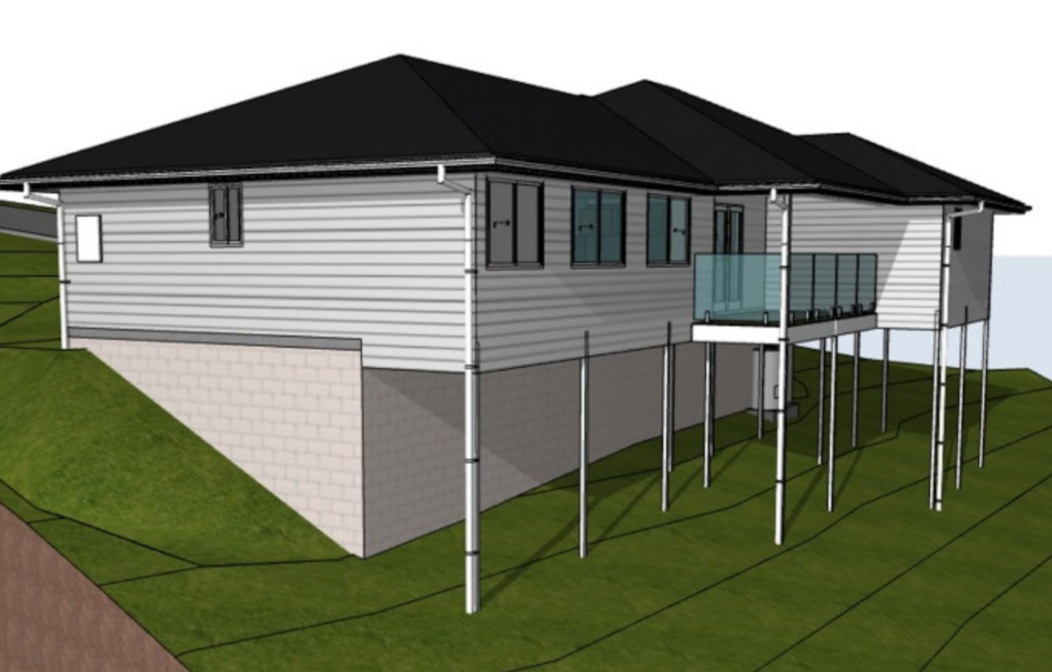 Pole house kits: The main structural element of a pole frame building is the column, usually a round pole chosen for its durability and set into the ground encased in a concrete footing. Pole frame house construction enables the floors of a building to be stepped up or down a slope without any excavation other than for the pole footings. Not only does this reduce building costs by minimizing expensive excavation and concrete strip (trench) footings, but it can greatly enhance the opportunities for innovative design.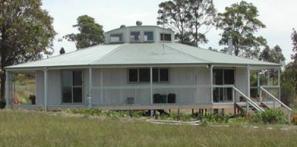 Octagonal home building kits: They are characterised by an octagonal (eight-sided) plan, and often feature a flat roof and a veranda all round. According to their originator, Orson Fowler, an octagon house is cheaper to build, allows for additional living space, receives more natural light, is easier to heat, and remains cooler in the summer. Octagonal home building kits are extremely strong in design and construction with greater strength and less wind resistance than square or rectangular type homes. 

Go back to my Groundwork page or return to Kithomebasics home page

---