Building Kitchen Pantry Cabinets

Constructing kitchen pantry cabinets is a little different from your normal carcass generally due to the much larger size. Best to have a raised bench to assemble it on with a good soft blanket to protect the surfaces.
Basically it is a large box that needs to be perfectly square so take your time with it. Pantry doors are often large and cumbersome and require careful hinge installation. Store the doors flat before assembly to avoid bowing.
Food pantries need plenty of strategic shelving and modern pantry organizers to make them functional. Go to your local kitchen shop, IKEA, and kitchen maker display stores for inspiration. Pantry shelving has insert supports that are adjustable in most cases.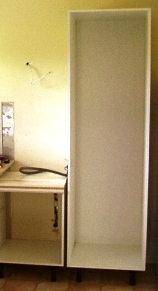 Look carefully at what is offered by your kitchen provider and choose roller cage draws for lower spaces to increase kitchen pantry storage and space. If possible get a walk in arrangement so the shelving is shallower for easy access.
One of the great inventions in kitchens is the large drawer assembly that can be used instead of shelves and doors. The easy storage and access to heavy items such as large saucepans and pots makes them a must in modern kitchen design.
To save bending over and reaching back inside a cupboard, just pull out a drawer!!! If you can, design more large drawer space into the plan..actually, put them everywhere. And add carousel storage devices into kitchen corner cabinets to reduce those dead spaces in the back corners. Some cabinet plans have rear doors to corner cabinets to fix this exact problem.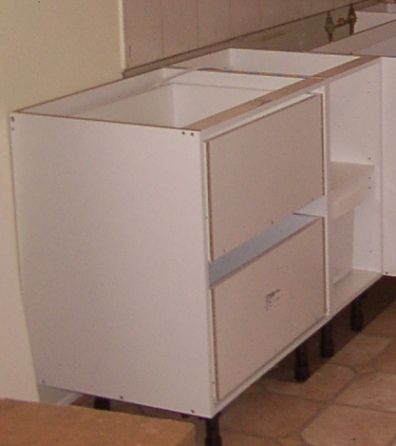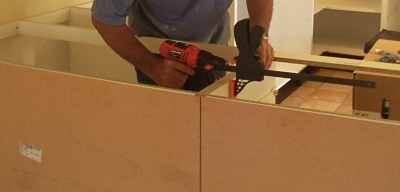 ---
Joining carcasses requires a level and some quick grip clamps. Not that hard, just keep it level all level on both planes exactly aligned on the front edges, then screw to fasten.

Go to the main Kitchen Cabinets page or Go back to Kit Home Basics Home page .