Sun Safety Tips for Owner Builders

These sun safety tips will keep you alive, or at least stop part of your face falling off from the effects of the sun, while building your kit home. Teaching sun safety to our kids is relatively easy, but we struggle to apply those 'safety in the sun' principles, which we demand from them, to ourselves on site. You can also review my Workplace Safety Tips page and also my page on Safety Slogans for workplace signs.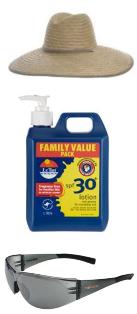 Sun Safety Tips
Use a broad-spectrum, high sun-protection factor sunscreen, at least SPF 30+
Apply your sunscreen at least 20 minutes before going outside, and reapply at least every 2 hours
Apply a protective lip balm. They are easy to store on your pocket and easy to apply
Wear protective clothing including long sleeves and a collared shirt. Loose, lightweight clothing that covers as much skin as possible is best
Get a broad-brimmed hat that is comfortable and doesn't impede your forward view
Buy yourself some good safety sun glasses. Choose sunglasses that filter out UVA and UVB rays; large, close-fitting wrap-around styles offer the best protection because they reduce glare and reflected UV radiation
Seriously consider renting/borrowing/buying a small marquee or shade sail to cover frequently used areas such as your saw bench or tool trailer
Provide shade for workers/tradies to have 'out of sun' breaks
Once the roof is on, do as much under-roof work as possible
If working on the roof, use a  bandana, face covering and a large hat.
Further Sun Safety Tips
Just because you have applied suncreen doesn't mean you should extend your time in the sun
You should also keep to the shade and stay out of the sun in the middle of the day
Surfaces such as water, sand and concrete reflect ultra-violet rays — you may end up with sunburn even if you are seated in the shade
Check with your doctor or pharmacist regarding medications you use that may increase your sensitivity to sunlight
Teaching sun safety to your site workers might seem childish, or not your problem, but setting your face up for the scalpel is a bad decision, all for the sake of comfort.
Click here to download a PDF publication on Sun Safety at Work
Go back to the Site Safety Page or

Return to Kit Home Basics home page

Provider reviews