Blaze B600 Wood Heater Review
This wood heater review is of the Blaze B600 freestanding convection wood heater. It also comes in a larger size: B900 in this configuration, but the 600 could apparently heat up 190m2 and our new home was 140m2 so it was big enough.
I chose this unit as it had a cantilevered design that created a raised platform to allow a wood stack underneath.
It boosted a 6mm steel baffle, fire-bricked lining, 6mm firebox construction, 3 speed fan with remote, and an 87% peak efficiency rating.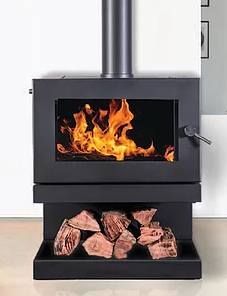 We purchased it with a Maxiheat Decromesh Flue and a rubber flashing hat for the corrugated iron roof. I purchased it from BBQ Galore in Ballina NSW.
My costs:

Heater $1840, Flue incl. cowl $450, Rubber Flashing Hat $70, Delivery (1 hr) $60, Install $650
Total installed was just over $3000

The installer suggested we unload the 150kg unit of weight so it could be manouvered easier, so I took out the firebricks and retainer, the baffle, and pulled off the door. Between us we were able to easily shift it into place, with a trolley, and position it. 

Blaze B600 wood heater review
I have owned and used many wood heaters in my life as I hate A/C heaters. Some wood heaters were great, others not so great. This one is a pleasure to use.

Wood heater review: pros and cons
Pros
The install was relatively easy due to the Maxiheat flue which, unlike most flue systems, was a very easy set up, and, with my help, went in quickly. See my page on the install here.
The unit can be dismantled very easily for cleaning and maintenance: bricks and retainer, baffle, stove top section and door. 

Relatively easy to light, draws well, and the fire is easily maintained with the one air inlet closer.

The fire box is somewhat higher than most due to the design which makes it easier to see and use.

It had no trouble heating our large open plan living room and well down the hallway.

Although the salesperson said we wouldn't need it, the three speed fan is great for pushing warm air away from the unit.

The unit is quite good looking and the Maxiheat flue is beautiful.

It has a large front door so you can throw the wood in from different directions. 

The wood stack base holds seven or eight pieces of wood but needs a side retainer if you want to add more as it falls off the side.

It has a stainless steel handle which doesn't seem to get hot, but has a slide-on extension if it does. 
Cons
The fire box is not that big. I need to cut my wood to no more than 30cm long and no wider than 10-12cm in diameter. That wasn't really a problem after I worked it out. 
The first four or five burns produced some paint burn off smell that required the windows to be opened. We were warned that all new heaters did this for two burns, but not four. 

The wood stacker has piece a toughened glass to protect(?) the base, which I am sure I will break soon. (Update 12 months later..haven't broken it yet.)
This is a con and a pro...the fan is noisy on 2 or 3, but 1 is quiet. All settings are very effective though. When it is very cold, I use setting 1 to move hot air through the house, then turn it off. 
You can check out more specs at the Blaze website here.
Ps...I have no relationship with this manufacturer, or sales of this product. Just reviewing it as I have one.
Go to the Blaze heater installation page or go back to DIY Projects or Kithomebasics home page