Concrete slab foundation details
The concrete slab foundation for my steel framed kit home started with a soil test. The engineers who did the soil test produced the foundation design report. This rather dense document firstly detailed the cut and fill plan. It showed where they estimated the fill line would start determined by the contours drawn on the survey. As I had a 20 tonne excavator on site, I had it dig the cut deeper, so there was very little fill under the house plot. More on land clearing here.
This meant that no pier holes were required and I had a 15 metre expanse of flat backyard before the batter. The plan also showed the edge beam and inner slab thickenings which were lines of steel and concrete going across the slab side to side.  It then showed detailed plans of the footing detail, starter bar design including corner bars, thickening, wet area recess and step down to the patio.  The report also outlined reinforcement, concrete, and slab fabric specifications, as well as underslab plumbing guidelines.

Concrete slab foundation: slab plans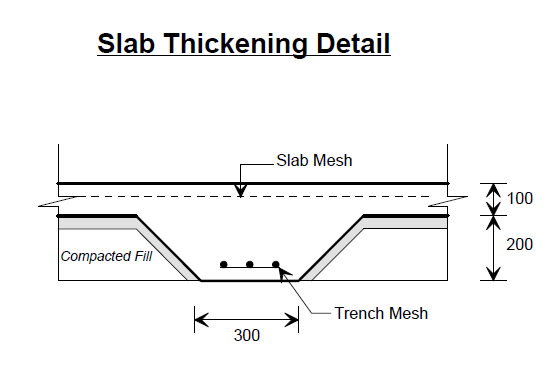 Concrete slab foundation sequence

Pad levelled: cut and fill completed, laser leveled
Set out: batter boards installed for string line slab edge marking
Footings dug: 400mm deep x 300mm wide trench dug around perimeter edge
Footing reinforcing installed: trench mesh installed plus bar chairs to elevate
Footing inspection: council inspection prior to concrete pour
Footing concrete pour: all footings filled, screeded and levelled with laser
Starter bars installed: bars inserted before concrete goes off
Underslab rough in plumbing install; bathroom, laundry and kitchen drainage installed
Underslab fill install and compaction: compacted fill + 50mm of crusher dust/sand screeded flat
Steel beam channels dug: trenches through the compacted fill
Formwork installed: surrounding formwork to contain the concrete installed
Plastic vapour barrier installed: the whole slab footprint covered in plastic
Steel channel reinforcing mesh installed: all trench mesh and edge beam mesh installed
Slab mesh installed: complete cover of reinforcing mesh tied in with bar chairs installed
Electricity rough into slab: insertion of conduit into slab edge for electricity and telecom
Termite barriers on pipework: all pipes have a flat plastic termicide impregnated guard
Slab work inspection: by council
Slab concrete pour: complete pour to fill all trenches and up to slab edge
Screeding, edging, forming for bathrooms: concrete screeded off and bathroom areas created
Helicopter finishing: power float application to complete the slab finish
Formwork dismantle: all surrounding formwork dismantled
For a pictorial view of my concrete slab foundation construction, go here.
Go back to concrete footing design
or return to Kithomebasics home page