Building a Pergola Part 2

Building a Pergola: Part 2
Go to Part 1 for the rafter bracket installation
Next step was to dig the pier holes. These were 600mm (2') deep and about 300mm (1') square. I set out using the "3-4-5" rule and measured the diagonals to ensure it was square. Go to my Setting Out Page for a good explanation. I chose 500mm (18") long galvanised stirrups with 3 bolt holes in each to accommodate the larger 115mm (4.5") posts. I set them into mixed concrete and moved them about until they lined up with my stringlines. Although there was a slope I didn't raise the lower one as I could use longer length pergola columns and keep it looking OK.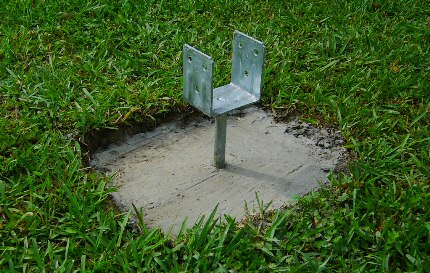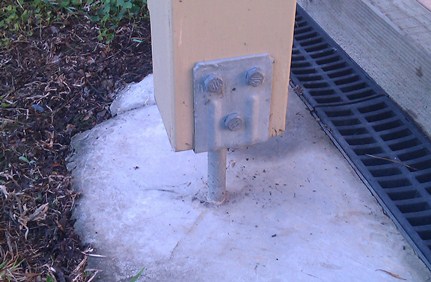 I had to check-out the base of the posts as the stirrup was 100mm and my posts were 115mm square. The next biggest was 125mm so the 100s would have to do. I stood and supported the posts to set up the heights, which needed to be lower than the top plate as this was going to be a roofed pergola.
I was going to use normal colorbond corrugated iron so I needed a good fall to get the water to the gutter. I marked out the heights, removed the posts, checked-out the top ends to received the front plate, sealed and painted both ends and reinstalled them using a level and more stringlines.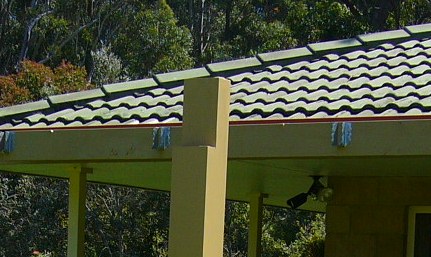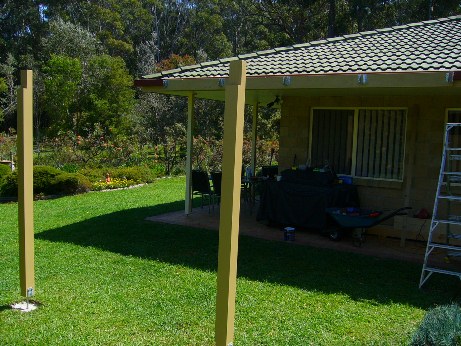 The next step to building a pergola was the installation of the front fascia plate. Again with a little help, I placed the pre-sealed and painted plate into the checked-out slots and braced them with quick clamps. I bored the bolts holes and using large square washers, screwed the galvanised bolts home.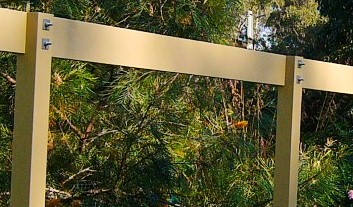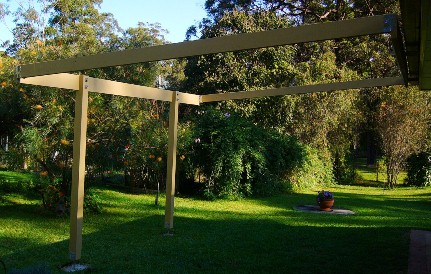 I used 5 CCA treated H2 pine joists (140x45mm). I installed the 2 outer joists first so I could get the square right. I used galvanised joist hangers, galvanised clouts (nails) and short tech screws. Measuring the angle cut was a little bit tricky, but once done I was able to replicate it for each joist both ends. Joist hangers were installed so that, in this case, the joist top edge was flush with the top edge of the plates.
I then installed the rest of the joist hangers at exact intervals, replicated the joists and installed them with 7-8 gal nails and a couple of tech screws for good measure, making sure the structure stayed true to square as I proceeded.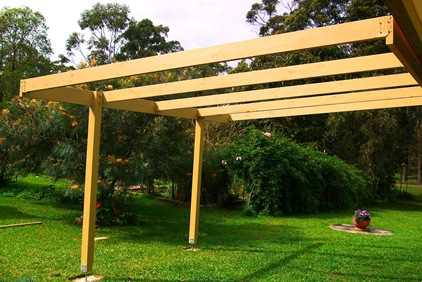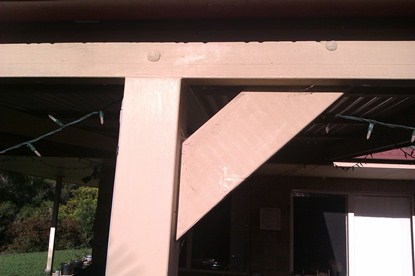 Top plate brace
Lastly I braced the posts to the plate with 45 degree cross members. This can be done in many ways and I chose to secure them to the plate and but them into the posts. You can also choose to check-out a section of the post and mitre them in.
Big Tip: Seal and paint the pergola as you go, including the top of the joists.

Go to Part 3 of this 'build your own pergola' series, for the batten and roofing installation.
Go back to Pergola designs or

Return to Kithomebasics home page