DIY Pergola Plans

My DIY pergola plans were formulated on MS Publisher and grew into a fantastic wooden pergola with roof, that is now a well used living area for the family. A wooden pergola is the easiest for the DIY handy-person as all materials are easy to find and buy, and all tasks are fairly low in complexity. Here below is the plan of my pergola, built to hold up a full colorbond roof setup.
Material list for DIY pergola plans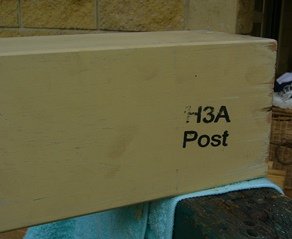 H3 cca treated laminated 115mm x 115mm x 3m x 2 posts
H2 cca treated 140mm x 45mm x 5.4m x 5 joists
H2 cca treated 50mm x 35mm x 5.4m x 5 battens
H2 cca treated 190mm x 50mm x 5.4m x 2 fascia plates
Galvanised rafter brackets x 2
Galvanised joist hangers x 10
Galvanised footing stirrups 50mm long
Galvanised bolts

Large square galvanised washers
Galvanised flathead nails
Pre-cut galvanised colorbond iron x 6 sheets
Galvanised wood tech screws color-coded
Gutter x 5.4m + stop ends + fixings
Downpipe + drop tube + pipe clamps + pipe-bends
Colorbond flashing x 5.4m
Colorbond barge x 5.4 x 2
0.2 metre of mixed concrete
Wood sealer and external paint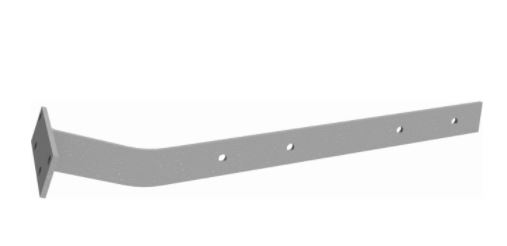 Rafter bracket
There are alternatives to CCA treatment such as LOSP or Liquid Organic Solvent Preservative, which you may prefer to use. Otherwise as long as you keep the posts on stirrups, keep folliage away from the footings, cover roof corners with flashing and barges, and seal and paint thoroughly, you really don't need to use treated wood.
Part of my DIY pergola plans were to set up a paved area beneath it and how the water drainage would be organised. I used a semi raised paved surface as the pergola went over a sloping surface and used treated sleepers as supporting surrounds. I installed storm drains (right) around the sleepers to guide the water to the lower part of my yard.
Click onto the next graphic below- Attaching Pergolas- to learn how I used these diy pergola plans to built a pergola attached to roof.
Go back to DIY Projects
Or return to Kithombasics home page