New home construction plans
My new home construction of a steel house kit began with plans from my kit home provider. I eventually chose Valley Kit Homes from Currumbin Waters in Queensland as they gave good value, full kit inclusions and great support. I knew this as I had owner built a wooden kithome with them before.
The big issue for me was that the kit was DIY, that is, the materials were pre-built, pre-cut, and with fairly exact quantities. It also needed good home building plans clearly showing all layouts, tiedowns, and roofing detail: that an owner builder could understand and work with.

New home construction design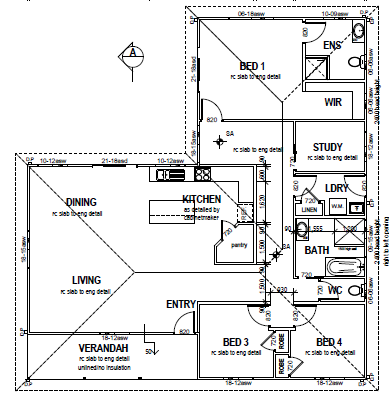 Valley Kit Homes floor plan
The Valley Kit Homes design I chose was the 'Elanora'. It was modified somewhat from a four bedroom to a three bedroom with an office, and added a hallway to separate the living space from the sleeping areas. We made the hallway 1500mm wide to add space and amenity. Most of the utilities: bathrooms, laundry, were down that side as well as the bedrooms. The main bedroom had a walk in robe and ensuite. The main bathroom eventually had the bath deleted and a large walk in shower installed. 

The modified house design was easily accommodated, as Valley Kit Home designs enable unlimited changes under roof. We also enlarged the windows, and swapped a sliding door into the main bedroom. The design also incorporated BAL29 bush fire standards with steel insect screens, thicker windows and non-flammable building materials, including Colorbond roof and the steel frame of course. There was a higher wind rating component as well, so tiedown specs were beefed up.

New home construction: wall framing plans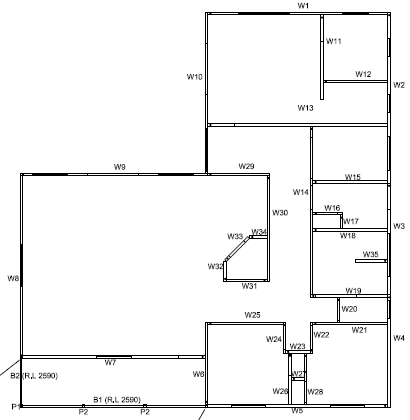 Frame layout
The new home construction kit design was completely made up of pre-assembled frame panels: wall frames, ceiling frames, roof support frames and roof frames, and required a total of six layout plans: these plans can not be copied - ©Valley Kit Homes.

The first layout was the wall frame mark-out. This showed all dimensions of rooms, distances of walls, and measurements between different frame points. 
I used this to initially mark the slab for easier frame placement and later to double check placement distances and squaring off before pinning down.

The second plan was the frame layout. This showed me where to start (W1)  and how it would butt, join or cross the next frame.
It also had a 'dot' shown at one end of the frame to assist me to place the frame the right way around. Some were symmetrical so this was useful. 

The layout showed all the frame positions including wardrobes, hallways and the pantry frame. It had outlines on the frame of where windows and doors were located which also helped with correct orientation.
Go to my wall frame erection page here.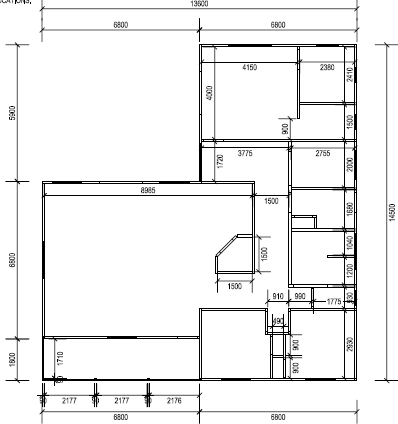 Frame layout dimensions
The third plan was the bracing details which firstly showed the pre-installed cross bracing and secondly, the concrete bolt tie-down points.
These corresponded to frame end points and 'K frame' strengtheners as points of specific tie-down.
Later, when the frame was completed, the frame inspector was very interested in this specific plan and took a great deal of time establishing I had done it correctly. He closely checked whether I had fastened the cross bracing to every stud it crosses as well.

New home construction: ceiling framing plans
The fourth plan was the ceiling frame layout. These were frames that laid down flat on top of the wall frames and not only braced the ceiling but replaced ceiling battens as well. The plan showed stud and extra noggin positioning of the frame so they could be orientated right side up and directionally correct. Go to my ceiling frame installation page here.

The extra noggins were for where the roof supports would be positioned and to support the ceiling edges.
Ceiling frame layout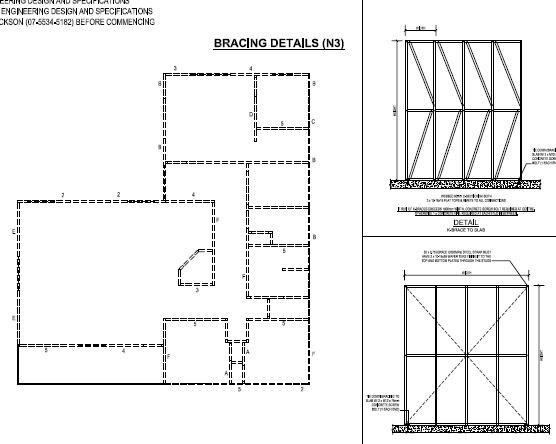 Frame bracing specs
It also showed the three large ceiling hanging beams which spanned the open plan living space (HB1, 2 and 3).
I had to study this plan hard to understand how and when to install these. The Valley Kit Home tech advisor was a great help at this time.
More detail on lifting a heavy beam here
New home construction: roof support frames
The fifth new home construction plan was a layout of the roof support frames. These smaller frames were to be stood upright on top of the ceiling frames in three rows around the house, one to support the ridge and two either side to support the middle of the roof frames, which laid down on the supports.
It also showed the correct positioning with dimensions and measurements from the wall edges.
There were a few different types of steel home plans around, and initially this made no sense to me, until they were on the roof. It looked like I was building another storey to passers by! Go to my support and roof frame installation page here.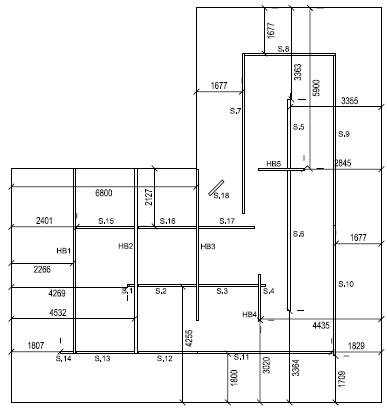 Roof support layout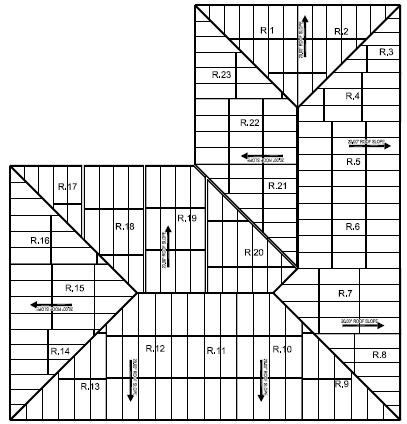 Roof panel layout
The last plan was the roof panel layout. These were a mixture of triangular and square frames that laid down on the supports at the 20% roof slope angle. It also showed more roof tie down specifications.

My new home construction
This is the first of three pages designated to the new home construction and tie-down of my DIY steel frame kit home. I also have an ebook describing in full the planning, costing, erection and finishing of this steel frame kit home. Designed to assist the Owner Builder navigate the process of the development application, clearing amd setting up a house pad, concrete slab, frame construction, roofing, cladding, plumbing and electrical, lining, doors and fitting of of appliances.  More info...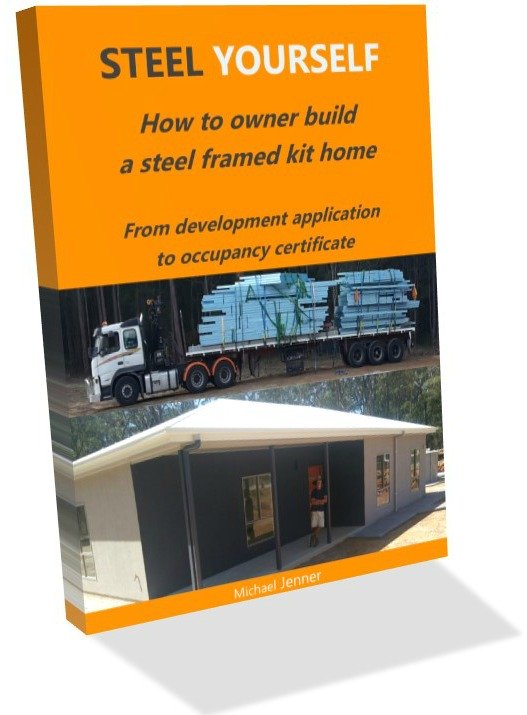 Further pages in this series are: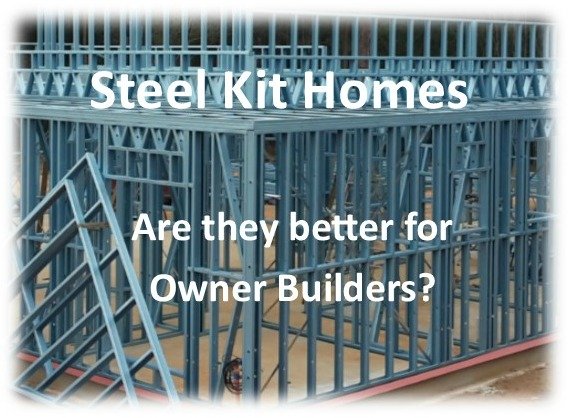 ---