MSpa B151 Spa Review

MSpa B151: unboxing
So this is an MSpa B151 Spa Review. We needed a spa, but not one of those fibreglass jobs. We looked at Japanese hot tubs but they seemed too expensive. Enter the MSpa. For about a grand we could get an inflatable spa so we ordered it online and it arrived 2 days later...yes ... a 'spa in a box'.

Opening the box revealed a well packed collection of spa parts, including inflatable spa, base protector, inflatable insulator, spa cover, control panel, filters, inflation hose, and a few minor accessories.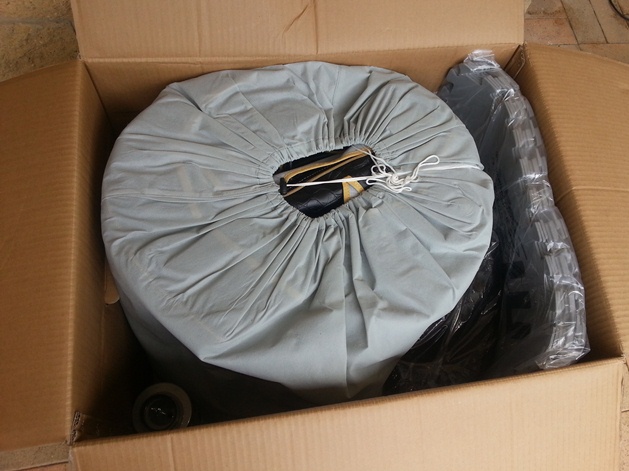 Spa in a box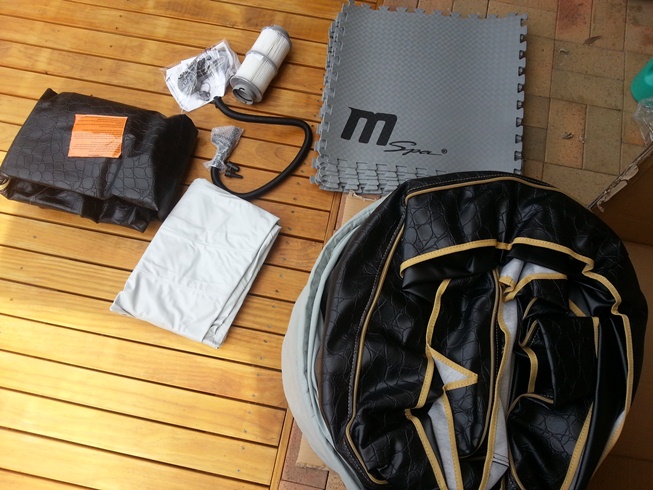 | | |
| --- | --- |
| Controller | |
First job was to lay out the rubber spa base mats which inter-connect to form a large square. Second was to spread out the spa, and try to get it positioned correctly. This is an important step as the electrical point needs to be in the right place and 1000 litres of water is a little heavy!
This spa has its own self contained pump set up so connecting the included air hose was relatively simple and it took about 8 or 10 minutes to fully inflate. Next step was to fill it with water. That took about an hour.
Spa review...
Next step is to turn on the heater.... on reflection, adding a load of warm water would have helped as this is a small heater so it took about 20 hours to get to 38 degrees.
We got the MSpa 6 person 1000 litre model, and we are glad we did because it may be advertised as 6 person, but 4 people would be the limit, in fact, 4 would be...intimate. At 180cm (6ft), I can stretch out and just touch the other side.

---
Turning on the bubble jets, which exit from the base surround ring, starts a loud and somewhat frantic bubble fest, but ultimately not very useful. The air that is injected is not heated so it does drop the temperature a little and as they are not jets, you don't get a good massage. We rarely used the bubbles anyway.
What's great is the lack of fibreglass seats, the fantastic hot pool experience and the two hour assembly.
Pros

Awesome hot pool experience
Can hold 40-41 degrees

Two hour assembly
Portable 
Small footprint
Soft base

Good looking spa unit

Very quiet operation
Reasonable price
Good zip up and lockable cover

Cons

Bubbles are not from jets and the air is not warm

Heating water is slow
Filter pump is a little weak

More fragile than a fibreglass spa
Families with children need to be vigilant 
Will impact on your electricity bill

I built a cool spa deck for this inflatable spa here...

Comment on this project...
Share your comment here.
What Other Visitors Have Said
Click below to see contributions from other visitors to this page...

Best cover your MSpa Not rated yet
We have had one of these for a year now and we now wish we had a roof or shade cover over it as the colour of the cover and sides has faded. Also the insulating …
Another positive review Not rated yet
We bought one of these spas and I agree it's a wonderful investment. We were a bit concerned that it was an inflatable spa and might be flimsy but it's …
Return to DIY Projects or go back to Kithomebasics home page