Kit Home Renovation
Kit home before the reno
My kit home renovation began in 2021, mid pandemic, after we had sold our previously owner built kit home. We had a caravan that was part of the transition plan so as not to experience FOMO (fear of missing out), which everybody seemed to be experiencing.
Using a caravan we could tour the areas in Queensland we had previously scoped on the net, could easily double back if a new prospect appeared, and could cruise new areas we hadn't thought of.
Prices were rising due to the surge of Victorians entering the state: 10s of 1000s apparently, so we were happy to wait it out and venture further north, where the southeners feared to go.
A rather run down house appeared on the net near Bundaberg so we did a drive by and the agent was showing somebody through so we tagged along and got the low down. It was a 10 year old owner built kit home, which the owner left soon after completion, and rented out for the rest of the decade. And it showed. It was in the middle of an estate of vacant half acre lots, had no fencing, looked unpainted, and had one lonely wattle barely alive at the front.
| | |
| --- | --- |
| Front view of reno | Nearby beach |
Inside wasn't much better. A dull and scratched wooden floor invited us into a large lounge room with an ugly small kitchen, and a walk in pantry with bowing shelves. No curtains and an old ceiling fan hinted at how hot it must have been to live in. Old vanities in the two bathrooms needed to go, barely an undercoat of paint, rusting lights, and a terrible laundry. Outside there was... nothing. No shed or carport and no fence.
In its favour: it was a pod style home, that is, two separate buildings joined by an enclosed breezeway, had tall ceilings, heavy cyclone rated windows and sliders. It was on a nice big half acre (2000sqM) flat block, had town water and sewerage, was 5 minutes to a secluded beach hamlet, and as all the blocks in the estate were sold (and were waiting for builders to turn up), had the potential to be a sought after proposition in the future.
As we were capable renovators and the sellers were happy to be rid of it, we got it for a reasonable price, in the scheme of things. An initial quick estimate of around $125k including sheds and carport wasn't far off.
The building inspector said it was a very well built home with solid foundations and fastenings and apart for a big freshen up, he couldn't see any future problems with the building. So we bought it.
Kit home renovation ideas
Our initial renovation plans included:
The cypress T&G flooring needed sanding and polishing
The kitchen needed to be trashed and rebuilt including new appliances
The pantry needed new shelving
The laundry needed to be trashed and renovated
The bathrooms needed new vanities and fixtures
The whole house required painting, inside and out
We needed a Solar system, a new water heater, lights and ceiling fans and air conditioning
A large powered shed and separate carport
Privacy awnings for the front deck
Complete fencing and landscaping
A new drinking water tank
kit home renovation lift off
I opted to have most of the renovation done by professionals this time. I have in the past built kitchens and bathrooms in my previous kit homes, but for health reasons (dicky back etc), not this time. Beginning this renovation was a trial. As with all building work in Queensland, everything was delayed.
The kitchen builders took 2 months to turn up to quote and 6 months to finish building it. I sold the old kitchen to a 'sheddy' up the road who was waiting for a house builder to start. We got the biggest kitchen we could fit built into the area, with new stove, oven, dishwasher and all lower draw design. The pantry was fitted out with full shelving. The kitchen builders also fitted out the laundry cabinets. Here is the kitchen reno story.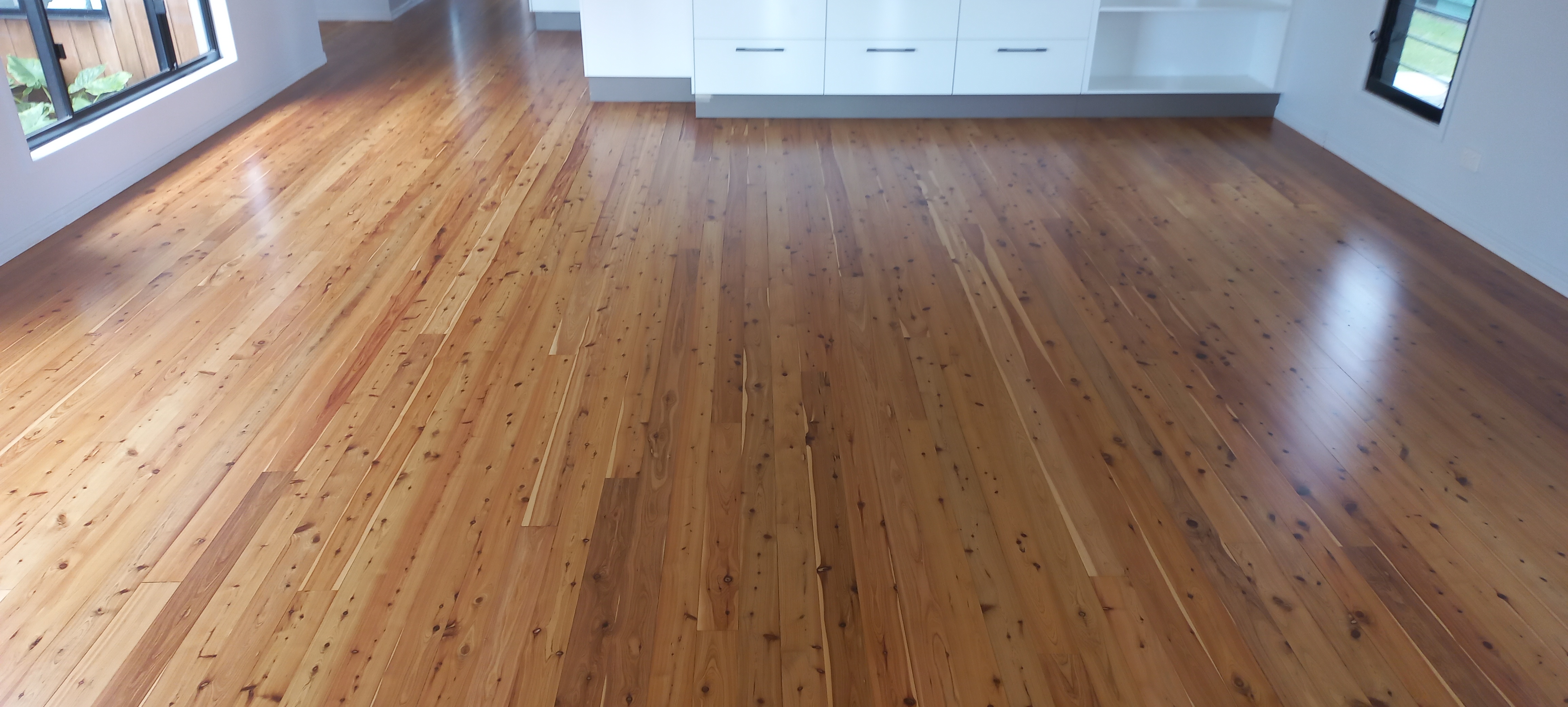 Sanded and polished: silk finish
The floor sander guy was thankfully flexible as he sanded and finished one side of the house then the other. So we at least didn't have to move out while it was done. We opted for a silk finish to the floors: not too shiny, or reflective. 
The plumber took months to arrive but stayed till it was completed: recommissioning the kitchen and laundry, fitting new vanities and taps, plumbing the new water heater, and fitting off the new water tank and pump. The electrician was a little better as he came early to disconnect the kitchen and laundry, and recommissioned them as well as the water heater, ceiling fans and lights.

I had a 6kw solar array installed on the roof as well as three air con units inside. I had the electrician add a timer on the electric water heater so it only operated on solar energy: a poor man's solar hot water system, that works. 
Outside, 6 months later, I had a large 2 bay shed with an attached carport built as well as a carport next to the house. Both with the intention of housing large off road vans and tall 4x4s. The shed was 8 metres deep with 4m bays. Our fence was lastly completed about 3 months later when wood was available!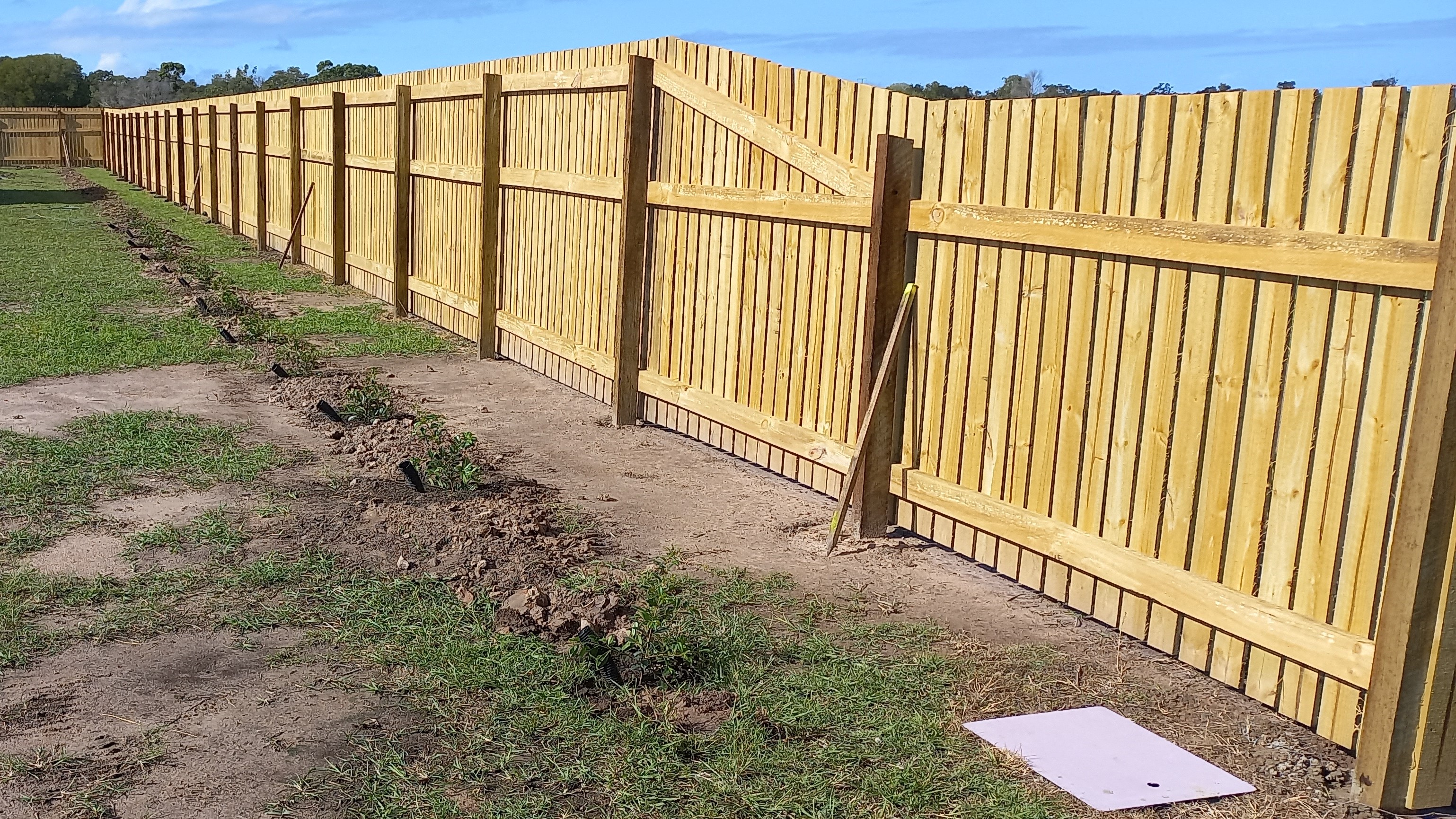 New wooden fence
Kit home renovation costs
When we were getting quotes, we realised that thinking of a number and doubling it was going to be closer to realistic. The pandemic had reduced available materials and labour.  And business costs were sky-rocketing.
Kitchen $15000
Laundry and pantry $5000
Bathroom fittings $2000
Plumbing $4000
Floors $4000
Paint $2000
Solar $4000
Water heater $1000
Electrics (incl. shed power) $6000
Lights/fans $1000
Curtains and blinds $3000
AC $4000
Deck awnings $4000
Water tank $1000
Shed and carport $50000
Fencing $20000 (160m)
Landscaping $2000 (90 shrubs)
Driveway $6000
The two major jobs we undertook ourselves were the painting and landscaping. Both were slotted into the renovation as required and took about a year to complete. The pictures tell the story of before and after. The total cost of building purchase and renovation was still less than the neighbours' new GJ Gardener brick and tile cookie cutter home, and $100k less than a house sold 2 doors up this year (2022). Now to save up for toys to go in the shed!
Kit home renovation completed
Heres another Kit Home Renovation
Go back to DIY Projects
Go to Kithomebasics home page
Your second block of text...